It isn't often a play starts with audience chants against the "Tory friggin' government".
But when the atmosphere gets whipped up into a frenzy, like it did tonight, you get the feeling it's going to be an energetic night.
Cherry Jezebel, also the name of the titular character, is a comedy drama written by Liverpool-born playwright Jonathan Larkin.
Playing at the Everyman, you could tell it was written by a local. Extremely Scouse, brash, witty and full of heart.
Cherry, played by Mickey Jones, is a Liverpool drag queen. Middle-aged and glammed up, she takes centre stage and addresses all sides of the audience.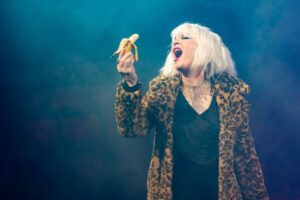 Mickey Jones as Cherry – Photo by Marc Brenner
Opening with a fierce monologue, she extols the virtues and relative safety of being drag in the 21st century compared to the dark days of the 1980s.
However, the play shows it's not all rosy in these modern times. Transphobia and homophobia are strong themes throughout the show.
In the first act, set mainly in the grotty toilets of a nightclub with music booming through the walls, we're introduced to Pearl Reckless, a non-binary drag queen dynamically played by Stefan Race.
Cherry's "Drag baby", Pearl is in their 20s. A millennial never without smartphone in hand and constantly on Grindr and Instagram, they are on the hunt for drugs and leave the stage.
Pearl later returns, beaten up in a transphobic attack and battered and bruised to the shock of the audience.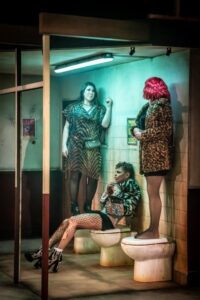 Pearl Reckless, Cherry Jezebel and Heidi Harlow – Photo by Marc Brenner
However, this is turned into laughs when, encouraged to take photos for evidence to the police, they flaunt and pose down the camera, scared of being in "double chin city."
This is one of the beauties of the play. Shock and anger can quickly turn to laughter, and vice-versa.
Big, societal problems are presented in an unflinching way but often undercut by wry, deliciously dark humour.
Cherry has just won a drag queen award, but is taking stock of her life, inadvertently prompted by her best friend, Heidi Harlow.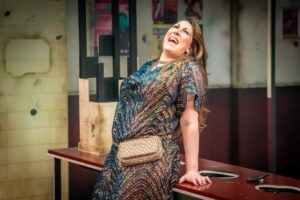 Mariah Louca as Heidi Harlow – Photo by Marc Brenner
Heidi, played by Mariah Louca, is making both personal and physical changes to her life that Cherry is failing to grasp.
As a transgender woman, Heidi is often vocally critical of men with bad intentions. It isn't the same with Cherry, which causes friction between the best friends of 30 years.
However, as best friends, the chemistry between both cackles throughout.
The cast is rounded out by Mo. George Jones' character is the only male-identifying character and appears more heavily in the second act.
Mo's toxic masculinity fights against his sexuality, and expectations of his life and relationships from those who know him. He is portrayed as the antagonist of the play but he is due sympathy.
A touching scene shows Pearl deconstructing the male ego to Mo through the medium of fairy tales.
Then the dark humour shines through again during a laugh out loud moment, when Mo become angry with Pearl due to, of all things in the world, Homer Simpson.
Sometimes the language can be too bawdy and jokes obvious (a joke about being taken down a peg, for example).
And personally, I found it uncomfortable despite saying numerous times they are referred to as 'they', Cherry knowingly continued to refer to Pearl as 'she'.
However, overall the humour and emotional depth of the writing is class, and the relatively  small cast ensures a strong chemistry is formed between all characters.
At the end, Set You Free by N-Trance is pumped out as the characters face the audience again
The whole room dancing and standing ovations from the audience ensures everybody heads out into the night on a high.
4/5
Cherry Jezebel plays at the Everyman theatre until Saturday March 26.