An aspiring musician who began his career by busking on the streets of Liverpool and across the UK has released his debut single 'Love'.
Kama Williams, professionally known as KAMA, from Amlwch, told Merseynewlive of his ongoing pursuit of achieving his dream vocation as a singer.
He explained his passion for music has always been present.
"I always sung from a young age as most kids do, my parents used to catch me every now and then in my room when they'd hear me from downstairs.
"My auntie had done drama and my dad used to be a singer down at the pub so I came from a musical background on both sides of the family.
"Around 15 and 16 my dad caught on to how much I enjoyed singing and bought me my own guitar."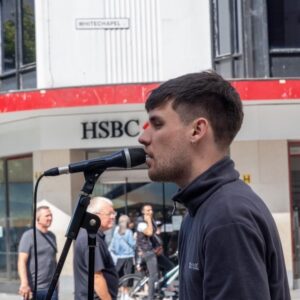 Industry Breakthrough
The 26-year-old singer's dream soon became a reality when he received a once-in-a- lifetime offer of performing in Cyprus.
Beaming with glee, KAMA reminisced over this turning point in his career.
"At the start of 2018, my dad had just come back from a holiday in Cyprus and said to me 'Oh they have really good entertainment in the hotels out there- why don't you look at something like that one day?'
"A couple weeks later, I was messaged by a fella called Jonathan who was an entertainment coordinator for a chain of five-star hotels in Cyprus and said, 'We'd love to fly you out here and have you sign a contract with us for the full season' so I said to myself 'You know what, I'm gonna do it."
Devastating Decision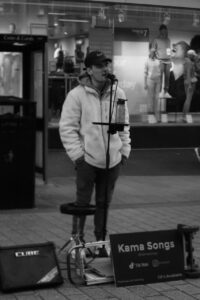 His untimely start into the industry led to KAMA being one of many aspiring musicians who were impacted by the initial COVID-19 outbreak as it led to the heart-breaking decision of suspending his long-awaited career.
"It was hard, it was draining; I did a month-long blackout on social media and people were messaging saying they haven't seen me in town and stuff, and then I did an announcement apologising."
"It broke my heart, it was tough; my whole family were gutted for me."
Still following his dream, KAMA took to the streets of Liverpool to busk and noticed a shift in the audience he received, with onlookers starting to record the singer's performances.
A Message of Hope
"I had taken myself back out to busk and a lady from Liverpool walked past me in town. Her name was Reet and she's a clairvoyant who does readings and stuff on Facebook.
"I had said to her that I have never really paid attention to stuff like that before.
"If I'm honest, I personally never would've gone for a palm reading.
"She basically sent me this minute and a half voice note and explained every thought I'd ever had for the last two months in a level of detail which literally brought me to tears."
This spiritual encounter led to KAMA resuming his pursuits of becoming a professional singer, as well-known celebrities had discovered his talents, including his idol Danny O'Donoghue from Irish pop rock band The Script.
"Someone filmed me singing Breakeven by The Script and sent it to me and sent it to Danny as well.
"Two days later I get a notification and Danny from The Script has seen the video and posted the video on his Instagram feed."
The Welsh singer is currently based in Liverpool as he explains it's the ideal city for him to blossom in his career.
His debut single was released on February 4 and is now available to listen to on Spotify.