Knowsley residents are objecting to what they say are "horrendous" proposals for a six-pump petrol station close to a primary school and church.
The disused brownfield site was previously home to The Boundary Pub on Pilch Lane next to St Margaret Mary's Church and primary school.
Objections from concerned residents who have shared their worries about the location of the petrol station currently stand at 102. The protesters met at the site on Monday to raise awareness of their concerns.
At the forefront of the objections are worries about the safety of schoolchildren, alongside the environmental impact of a petrol station in the area.
Local resident Kathleen Cunningham said: "Pilch Lane is already a busy road with two of the biggest schools in the borough with about 1000 kids attending each day.
"The parking situation is already critical and it's an accident waiting to happen, there will be someone killed on Pilch Lane in the near future."
Fr Ian McParland of St Margaret Mary's Church is concerned about the environmental impact of the proposal.
He said: "At a time when we are being asked to look at our use of fossil fuels, the unnecessary addition of a petrol station seems counter-intuitive."
The Co-op, which aims to create a new convenience store on the site, said: "The proposed new development would safeguard jobs and rejuvenate land off Pilch Lane.
"It would offer an extended range of groceries and enhanced warehousing in order to better serve the community and provide access to food and everyday essentials, conveniently."
However some local councillors are also objecting to the proposals.
Councillor for Knotty Ash, Harry Doyle, said: "The development is going to exacerbate the issues already present on the roads.
"The land which has been sold off by the NHS could have been used better in terms of a park and walk scheme for example.
"Petrol stations in 10, 20 years time are going to go out of fashion so it also seems quite shortsighted."
Councillor for Swanside, Colin Dever said: "We have grave concerns that the increased traffic levels on Pilch lane due to the development will have a significant detrimental impact on road safety and our community.
"It would just be ridiculous to have a noisy petrol station next to a school and a church."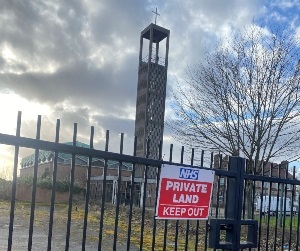 Local resident of 47 years, Christine Seddon, said: "There's already petrol stations at either end of Pilch Lane, there's just no need for another.
"The whole thing is about safety and we need to protect our community."
Creator of 'Pilch lane neighbourhood and crime group' on Facebook, Leanne Cullonden, said: "As a mum I'm seriously concerned about the safety of children attending the two schools here."
The Co-op added: "The application is subject to planning consent which provides the most democratic of means for anyone to express their views. We await the outcome of the planning process".
Featured image by Georgina Fletcher