Alt-rock band Gen and the Degenerates stole the show at the 'Big in 2022' Liverpool event this weekend.
They performed their new single 'Wild Thing' to an excited crowd, hinting that there is more to come from them this year.
The five-piece group met in Liverpool in 2018 whilst studying and working in the city. Since signing with Marshall Records in 2020, the band have been busy in the studio creating new music.
The band agree that the city always feels like a homecoming gig, despite none of the members originally being from Liverpool.
"It does feel like home when we get to come back. When we first started 99% of our shows were in Liverpool and the reception we get when we play is always amazing, it does feel like coming home," said drummer Evan Reeves.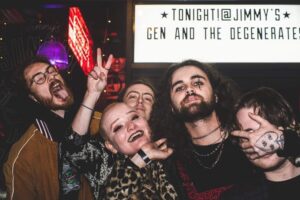 It certainly felt like the band were at home on stage. Frontperson Gen commandeered the crowd with their sharp and confident vocals, whilst the Degenerates seamlessly blasted a blend of old-school punk riffs and catchy pop beats. Confidence oozes off the band, as though they've been performing together for decades rather than years – they know they sound good and they're going to prove it to you.
Following their enforced absence from touring because of the pandemic, bassist Jay Humphreys said: "We came back with a renewed energy, new songs and playing shows far more exciting than what we'd ever done before, so it definitely felt worth the wait as tough as it was."
Evan agreed: "We're a live band above everything else, we love being out on stage and doing our thing so it's nice to be back doing what we love."
The Degenerates have already confirmed a spot at the Great Escape Festival in Brighton and aspire to record a debut EP in the upcoming year. The future is looking bright for Gen and the Degenerates. If their live shows are anything to go by, the world is theirs to conquer.
To stay up to date with Gen and The Degenerates, follow them at their Facebook page.