Hundreds are set to make Liverpool City Centre glow green on Friday in an organised walk through the city for the Clatterbridge Cancer Charity. 
The Glow Green 8km night walk is taking place tomorrow (Feb 4), starting at Exchange Flags in the city centre at 7pm.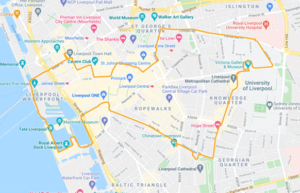 The walk has been organised to coincide with World Cancer Day.
Clatterbridge Cancer Charity provides support to the Clatterbridge cancer centre and the Trust as a whole. 
The walk will pass landmarks including Liverpool Anglican Cathedral, Radio City Tower and the Clatterbridge Cancer Centre. 
The evening is planned to be an enjoyable occasion for all taking part, with opportunities to reflect as hundreds of candles will be displayed on the steps of Liverpool Metropolitan Cathedral. 
There will be entertainment along the route including a rock choir and glow-in-the-dark merchandise handed out at the start point.
Mark Parkinson, the events fundraising manager for Clatterbridge Cancer Charity, said: "We're keeping everything as safe as possible to make sure it's a great night for everyone."
There will be around 600 people walking through the Liverpool route, which will include previous and current Clatterbridge patients, family members of patients, families who have lost loved ones and supporters of the charity. 
The event is sold out to walkers tomorrow, but you can go down to support the walkers along the way, or volunteer for the event via their website. 
Mr Parkinson also told MerseyNewsLive that people wanting to walk next year should get ahead of the game and sign up for their walk next year on February 3 2023. 
To sign up to volunteer or to walk next year available here or call: 0151 556 5566  
Donation page for the Clatterbridge Cancer Charity available here.