This week Merseynewslive spoke to the Mayor of Wirral councillor George Davies at Wirral Town Hall about the Oxton Christmas light switch-on, with which he was involved on Saturday.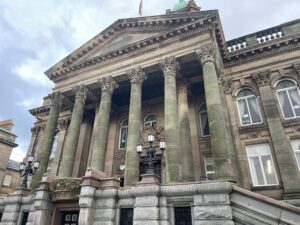 Merseynewslive also spoke to him about current issues regarding the pandemic and how this has impacted his time as Mayor, as well as his plans and desires for the regeneration of the Wirral.
Covid causing obstacles
Covid-19 has been a major part of our society for the past two years and caused cancellations, changes in laws and turned our worlds upside down.
Cllr Davies, who was deputy mayor for two years prior to becoming Mayor in May this year, was originally meant to take up the office during 2020. However, his move to mayor was delayed because of the pandemic and the sense that nothing could change whilst in lockdown.
This was the first of many obstacles that Cllr Davies had to confront due to the pandemic, including not being able to attend certain events that mayors usually do and missing chances to change things across the Wirral.
[Watch video of Wirral mayor George Davies:]
Plans to make Birkenhead better
The mayor also explained how he wants to improve his local area of Claughton, and plans to use Oxton Village (location of the Christmas light switch-on) as inspiration.
He also explained his plans to improve Birkenhead to make it more approachable for tourists and increase the jobs on offer so people do not have to move.
His plans look at developing train links, tourist attractions and increased opportunities for the young when they finish their studies and begin searching for careers.
[Listen to part of the interview with Wirral mayor George Davies:]