The United Nations has launched 16 days of action against gender-based violence as part of a campaign to improve the safety of women and girls.
Here in Liverpool, Rape and Sexual Abuse Support (RASA) Merseyside released its 'Orange Ribbon campaign' on November 25, which runs until December 10, and is having a great impact on the community.
The professional counselling and support service is placing orange ribbons with a little tag on in public places where women have felt unsafe, in order to reclaim those spaces back and feel empowered. The team are encouraging others to do the same.
Earlier this year RASA Merseyside gave out Police Crime Commission surveys to women and girls in the city to find out where they felt most uncomfortable. It was revealed that public spaces were where the majority experienced a problem.
[Listen to Emma Walker from RASA Merseyside talk about the campaign:]
Emma also mentioned that the organisation has a poetry project alongside the Orange Ribbon campaign – this is an open call for poets and artists across the city to give their interpretations of sexual violence which will then be shared on social media for people to see.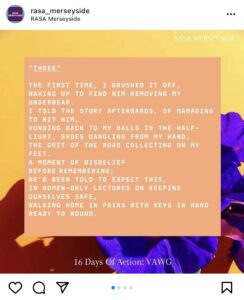 Hera Perihar, a student from Liverpool John Moores University, shared her thoughts on how safe she feels in the city: "The fact that there's been a noticeable increase in violence against women is worrying to me, I try to have a positive outlook and I feel like I'm safe enough to walk home by my own but I'm much more guarded now and cautious about where I go and when."
She added: "I just don't think it's fair to be living in constant fear about whether it's safe to go out or not, I feel like we, as a society, should be doing more to create an environment where everyone feels safe and comfortable enough to live their lives and thrive."
Meanwhile Liverpool Domestic Abuse Service is taking a different approach inspired by Karen Ingala's article What's In A Name?.
On Twitter, the grassroots community-based service is sharing names of all the women on Merseyside who lost their lives to violence at the hands of a male, with the year and where they were from included in the tweets.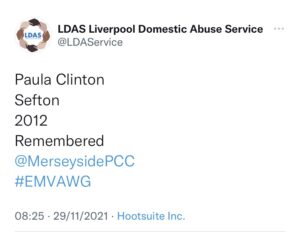 According to the Office for National Statistics (ONS), domestic abuse rose by 6% in England and Wales in the year ending March 2021. It was also found that there was a 22% increase in calls to the National Domestic Abuse Helpline in England over the same period.
Following the increase in attacks against women and girls in the past few weeks, there will be a vigil this Saturday (December 4) at Church Street in remembrance of Ava White and all the other women killed or attacked.
For more information and guidance please visit the websites below:
https://www.rasamerseyside.org/info-support
https://liverpooldomesticabuseservice.org.uk/