Radio City's and cash for kids' charity appeal, Mission Christmas is back this year looking to raise over £1million in gifts, cash and toys.
Mission Christmas returns for its third year with the aim of helping families across Merseyside and the North West.
Merseynewlive spoke to Holly Steven, a member of the Mission Christmas team to learn more about the appeal.
For Holly, Mission Christmas is particularly close to her heart: "Christmas is my favourite time of year.
"I have always enjoyed celebrating it surrounded by family and friends, before working at Cash for Kids. Like many others, Christmas was always something I took for granted."
She continued: "This time of year, can be a real struggle for so many families who dread their children coming home needing a new jumper for Christmas jumper day, money to go Christmas shopping with their friends or having to face telling their children they cannot afford to decorate the house.
"Working at Cash for Kids has made me more grateful for being able to celebrate Christmas."
Mission Christmas are aiming high for this year's appeal: "We are hoping to receive £1.3 Million in toys, gifts and cash to enable us to support 25,000 children which is the amount of applications we anticipate we will receive before Christmas."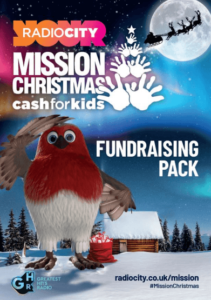 Holly added: "We use our cash donations to buy toys and gifts to bridge our gaps, we always receive much fewer donations for both 0-18 months and 12 – 18-year-old boys and girls.
"Having cash donations enables us to go to our wholesaler and buy enough stock to fulfil these applications."
According to Holly, Covid has also undoubtedly become a factor in a rise of families in need this Christmas.
"We have supported a lot of parents who were put on the furlough scheme. On furlough you only received 80% of your contracted wages but a lot of the parents we supported were on 0-hour contracts but would work up to 40 hours a week pre COVID."