Welcome to this week's edition of MNL, writes Sub Editor DANIELLE JONES.
Raising money for this year's Children in Need, local girl Olivia Rushton has completed a 30-mile cycle for the Rickshaw challenge in a bid to show her support.
As December is fast approaching, we take a look at this year's Liverpool Christmas Market and how to stay safe and secure. At the same time, we join the debate about whether Christmas starts too soon.
In other news, we look at how the city unites to fight Islamophobia as well as celebrating Transgender Day of Remembrance. We also dive into the climate change conversation after local eco hub is recognised in a new global climate campaign by the UN – and, whilst we're on the topic of environment, head to page 9 to discover more about where you can raise a glass to the globe!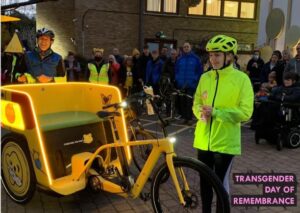 And, for all the plant-based lovers out there, tune into page 14 and explore a new vegan directory app which you can use to discover all the vegan friendly businesses around the city, and continue reading for much more!
Remember to tune into our podcast to hear all about how we have found producing our pieces with only a small team available this week. Happy reading!