In a bid to create a greener Liverpool city region air quality sensors are going to be installed which could change the way we use our roads.
The sensors will form part of Metro Mayor of Liverpool City Region Steve Rotheram's plans for a greener Liverpool. They will allow traffic flow to be managed when pollution levels are high.
Leading technology company Siemens' Yunex Traffic Division are partnering with EarthSense to supply, install and maintain the Zephyr pollution monitors.
The Zephyr air pollution monitor can detect various gases and particulates in real-time being emitted into ambient air.
Mersey News Live spoke to Greg Lewis, Head of Sales and Marketing at Earth Sense and Tim Wray, Systems Sales Manager at Yunex Traffic UK about what this could mean for our roads.
How will this affect our roads?
The installation of the monitors could potentially see road diversions when the monitors detect a high reading of pollution.
Greg Lewis said: "With traffic volumes then restricted, traffic flow can be managed and perhaps even diverted via another, less congested, route to avoid further congestion and the build-up of harmful pollutants."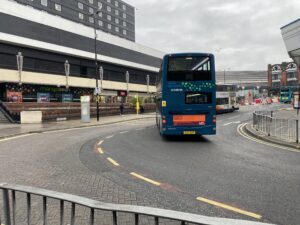 Liverpool City Region Combined Authority made the announcement that 37 air quality sensors will be installed. They will use technology to monitor and provide live information to highways management teams.
Funding for the project is being delivered through the region's Transforming Cities Fund.
The monitors will be located on major routes in Liverpool, Halton, Knowsley, Sefton, St Helens and Wirral.
These roads include A5038 Lime Street and A5058 Queens Drive in Liverpool.
Steve Rotheram, said: "Air pollution has a really damaging effect on the environment and on people's health.
"This new technology will allow us to monitor air quality along congested routes in real time and enable local councils to reduce congestion."
The monitors will be integrated with Urban Traffic Control systems and signals to manage traffic and ease congestion.
Tim Wray, from Yunex Traffic UK, said: "When the monitors detect high levels of air pollution in a specific area, traffic controls can be used to manage traffic in a way that will help to reduce and create a drop in tailpipe emissions."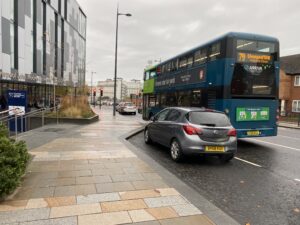 How will this benefit the environment?
In 2019 Liverpool City Council declared that planet Earth is facing a climate change emergency. They pledged to make Liverpool a Net Zero Carbon city by 2030.
Reducing the amount of harmful air pollutants and cutting congestion is just one way Liverpool is hoping to meet this goal.
However, it is not just the environment at risk from pollution, our health is too.
Greg said: "In the UK, nine out of ten people are exposed to high levels of harmful pollutants which gets trapped in the lungs and causes a wide range of respiratory and cardiovascular conditions.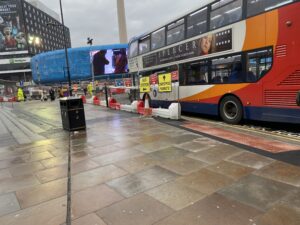 He added: "The monitors use an active sampling mechanism that draws in air every 10 seconds from the immediate area and a measurement is taken for each pollutant.
"The air is released back into the atmosphere and each measurement is transmitted back to the EarthSense web application, MyAir® where data can be viewed, analysed, downloaded or can be integrated with existing systems with an API."
What is the next step?
The monitors are expected to be installed by spring 2022 and have a current agreed contract of five years.
During this time pollution sources, hotspot areas, episodes and trends will be assessed.
It is hoped there will be an improvement in the health and wellbeing of local people and towards net zero.