More than £61,000 has been raised for David Perry, the Liverpool taxi driver who was caught up in a terror attack on Liverpool Women's hospital, on Sunday.
Mr Perry has been hailed as a hero and two online fundraising appeals have been launched to help him and his family.
Both a Facebook fundraiser and a Gofundme are gaining support and donations to help the taxi driver.
Facebook user Carol Mchale said: "Just donated, I hope it gives him a happy life and his injuries heal real soon. Good luck to him and his family."
While another user named Anna Lee added: "Stunned you managed to get out of the car. Watching the footage is awful. What a shock for a cabbie simply doing his job on a Sunday."
Facebook user Di draper continued the well wishes: "The people of this country will never forget your bravery David, wishing you a speedy recovery although the emotional trauma will be harder to heal."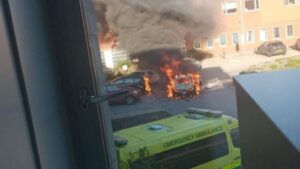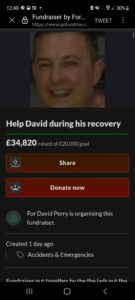 Although the full extent of Mr Perry's injuries have not been disclosed, it is believed that recovery from the injuries will take some time. He has been released from hospital and is recovering at home.
David's wife, Rachel told The Telegraph: "He is without doubt lucky to be alive. The explosion happened whilst he was in the car and how he managed to escape is an utter miracle.
"He certainly had some guardian angels looking over him. She added. "I would like to thank the amazing staff, doctors and nurses at the hospital, you were all amazing
If you would like to give to David and his family, you can find the links below:
https://www.gofundme.com/f/wtwtw7-help-david-during-his-recovery?qid=9f5506b6842d0826fa8891094156cea8
https://en-gb.facebook.com/donate/1039311630226591/