Welcome back to this week's edition of MNL, writes reporter SASKIA FRYER.
This week, some students were lucky enough to attend a lecture given by Merseyside Chief Constable Serena Kennedy, who was outlining her main strategy for policing.
Considering Covid-19 infection rates are on the rise again, we discuss whether the return of masks will help make travellers safer on trains and why people choose not to wear them now.
As more businesses are on the look-out for diversity within their industries, it has led to a newly established creative agency for female creatives and under-represented communities to get their work out there.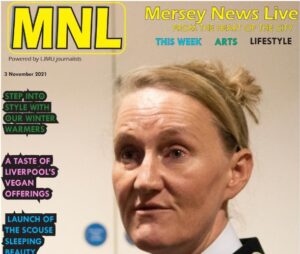 We get to know one of Liverpool's young and bright new talent on the comedy scene, Bill Hodge, who delves into his comedy work and how he dealt with becoming transgender.
As we move swiftly into November, the fun and vibrant festival Homotopia is back to showcase the finest queer talent, including comedian Will Jackson.
Life in Liverpool would not be complete without attending a lively Scouse Christmas panto, and 'The Scouse Sleeping Beauty' fits the bill perfectly.
We take the time to celebrate world vegan day this year as more people are choosing the meat free life.
To round off the spooky celebrations of Hallowe'en, we attended the Katumba carnival embracing African drums and artform creating fun for all the family.