The UK's terror threat level has been increased to 'severe' after a bomb was detonated outside Liverpool Women's Hospital on Remembrance Sunday.
Prime Minister Boris Johnson said the increase in the threat level reflected the number of attacks or attempted attacks that have occurred and that the public must be vigilant.
The change from 'substantial' to 'severe' comes after a blast in the car park of Liverpool Women's Hospital.
Four men arrested in connection with the car explosion, which is being treated as a terrorist incident, have now been released.
A taxi was seen covered in flames after a bomb appeared to detonate at 10:59am on Sunday. The passenger was declared dead at the scene.
Officers say they believe the man who died in the blast is Emad Al Swealmeen and that he made and brought the device into the taxi.
The taxi driver, David Perry, managed to escape the car and was treated for injuries, but is now recovering at home.
His wife Rachel has said her husband is "doing OK but is extremely sore", adding that it was an "utter miracle" that he managed to escape.
She told The Telegraph: "There are a lot of rumours flying around about him being a hero and locking the passenger inside the car, but the truth of the matter is, he is without doubt lucky to be alive.
"The explosion happened whilst he was in the car and how he managed to escape is an utter miracle. He certainly had some guardian angels looking over him.
"I would like to thank the amazing staff, doctors and nurses at the hospital, you were all amazing and also the police officers and detectives who have been looking after us.
"We're so thankful."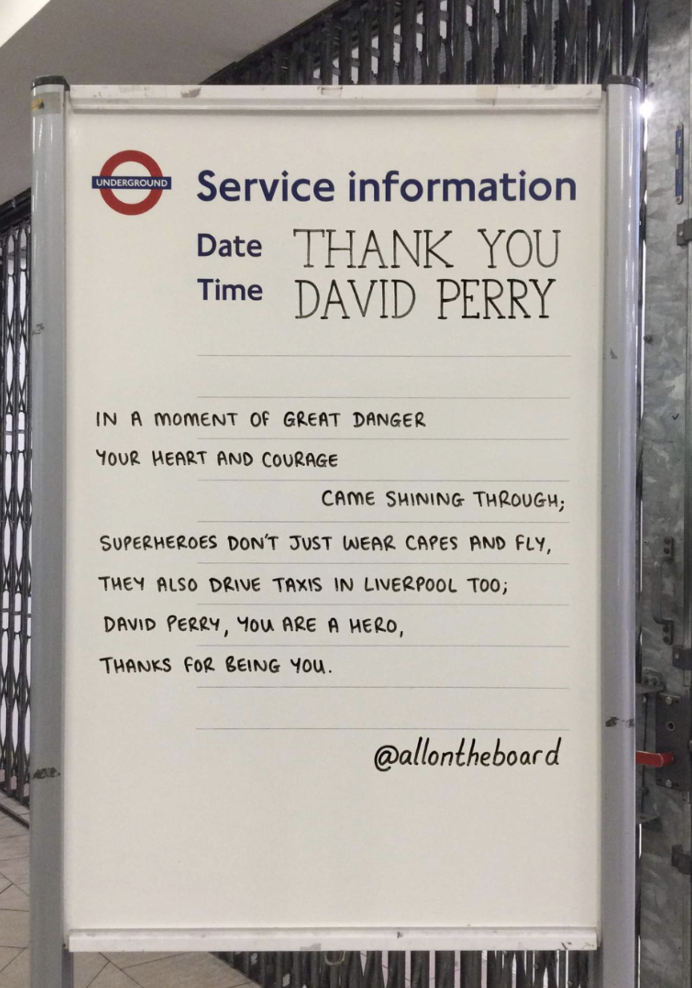 The taxi driver has been dubbed a Liverpool hero and a fundraiser has been set up for David and his family.
In one day, more than 1,700 people had donated and almost £25,000 had been raised on as people wondered how much more disastrous the blast could have been.
"Incidents such as this are very rare, but I would ask people to remain calm, but be vigilant and alert."
Chief Constable of Merseyside Police Serena Kennedy has urged the public not to panic and said: "Incidents such as this are very rare, but I would ask people to remain calm, but be vigilant and alert."
She added, "Officers from Counter Terrorism North West are leading the investigation supported by Merseyside Police and they will be liaising with our partners at Mersey Fire and Rescue and the Liverpool Women's Hospital to establish what has taken place.
"There will also be an increased and visible police presence on the streets of Merseyside and I would encourage people to engage with my officers and raise any concerns they may have."
Any concerns should be reported to Merseyside Police.