The popular American bakery chain Cinnabon has opened its third store in Liverpool, just a walk away from Liverpool Central. Cinnabon joins the rest of the city's dessert places – which people go mad for.
After the newest sweet treat place opened up, we rounded up the top five places to grab dessert that you won't be able to resist:
Have we left any out? Let us know in the comments.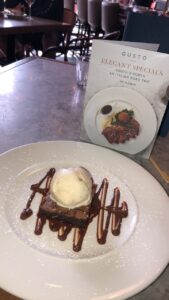 From chocolate cream-filled doughnuts to a simple original glazed, everyone loves Krispy Kreme. Located in Liverpool One, it's the perfect treat during a day's retail therapy. Indulge in one of their best sellers – Chocolate Dreamcake, Biscoff, Glazed Raspberry, Apple Pie or Salted Caramel Cheesecake. Take one for yourself or grab a box of 12 to treat the family, too. If they don't take your fancy, there's plenty more mouth-watering doughnuts to choose from. Krispy Kreme is also famous for its coffee, the perfect accompaniment for its sweet treats. We love it here and you will too.
One of the most-loved coffee and bakery brands in the world, Dunkin' Donuts is clearly one of our favourites. The St John's store sells everything from doughnuts and hot chocolates, to iced coffees and croissants. The smell of sweet pastries hits you as soon as you step foot in the store – you won't be able to resist.
Located on the Strand, at Heavenly Desserts you can enjoy a luxury dessert with a spectacular view of the Royal Albert Dock.  Their classic treats include American and Belgian waffles, crepes and cookie dough, all dripping in toppings of your choice. Whether its Nutella, Biscoff sauce, syrups, a range of gelato flavours, fresh fruit – the list is endless. If the classics aren't for you, treat yourself to a creamy cheesecake or sticky toffee pudding. There's something for everyone here!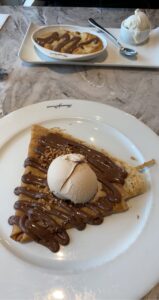 Kaspa's menu boasts a mouth-watering selection of ice creams, gelatos, waffles, crepes, milkshakes, smoothies and sundaes. Their Liverpool parlour is always busy and it's no surprise why! If you are the person who always goes for the ice cream, a Kaspa's sundae is the perfect choice. Our top pick is Bubbleicious, Bubblegum and strawberry gelato, topped off with soft vanilla ice cream, strawberry and bubblegum sauce, sprinkled with colourful sugar strands.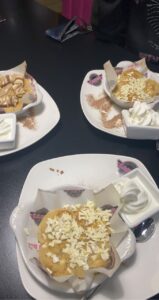 Finally, if you're a cookie dough lover you will LOVE My Cookie Dough. The Instagram-famous company specialises in mouth-watering baked cookie dough served with a choice of ice cream or fresh cream. Choose from a selection of flavours including Nutella, Kinder and Oreo. The best part is that you can even treat yourself to 15% off when you sign up to their newsletter! Do it here.
Heading to Liverpool and eager to know your way round the best dessert parlours? Watch the tour below!