Just one day after reporting on the increasing problem of drink and needle spiking in Liverpool, I became a victim of it myself.
My experience was similar to the victims I interviewed. It was a normal student night in Level nightclub in Liverpool city centre. I was out with my housemate Catrin Owen. I remember everything clearly up to around midnight, and then the night becomes a total blank.
Catrin told me that halfway through the night I disappeared, and she found me at home awake and without my phone.
She said: "I tried talking to you, but you couldn't respond properly and just kept repeating what I was saying. You seemed really confused. You hadn't seemed to notice your phone was missing. It was quite creepy, but I assumed you were just really drunk."
The next thing I remember is waking up at 6am, with my head spinning and feeling extremely disoriented. I shortly fell back asleep and woke up again at around 10am and went to find my housemate to ask her what happened.
I had absolutely no memory of anything she told me.
But it was only when Catrin said we'd been careful with our drinks that the realisation dawned on me that I could have been a victim of spiking.
My suspicion was confirmed when I found a bruise on my right forearm with a needle mark in the middle.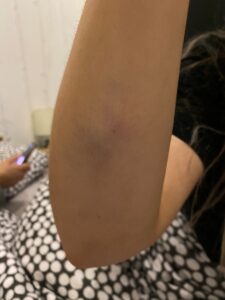 Only this week Merseyside Police announced they were setting up a special unit to investigate the rising numbers of incidents like this being reported.
My case is just one under investigation, with the region's Chief Constable Serena Kennedy revealing it's not just women being targeted.