Leading black artist Larry Achiampong says a new exhibition at FACT has given him the opportunity to explore his roots and the impact of colonialism on his life.
Larry Achiampong is a London-based artist, working with the Brighton-based artist David Blandy at a FACT Exhibition, Future Ages Will Wonder, this autumn. Larry frequently works with David to produce collaborative projects, with the earliest of these being Biters in 2014.
They have been working together to explore the issues of race and power, empathy and their friendship.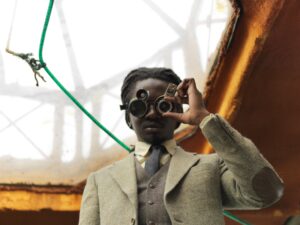 Larry's collaborative projects employ imagery, aural and visual archives, live performance and sound to explore ideas surrounding class, cross-cultural and post-digital identity.
Larry told MLN: "Dust to Data is the third part of a series of works within the 'Genetic Automata' project which looks at the history of scientific racism and its relationship with the present.
"Visually, this film was shot primarily within virtual environments that take visual references from the likes of the Nubian and Egyptian Pyramids, other aspects of architecture as well as that of the insides of Western-styled archives."
New exhibition now open! 🎉 #FutureAgesWillWonder takes you on a journey of alternative museums and forgotten ancestries. From embroidered textiles to the pixels of virtual reality, explore and question the ethical issues caused by the advancement of science and technology ↓ pic.twitter.com/0GOeKEIdUn

— FACT_Liverpool (@FACT_Liverpool) October 29, 2021
"We had the immense pleasure of talking across the months of making this work with Professor Larry Barnham who works in the Archaeology, Classics and Egyptology departments at University of Liverpool.
"What was beautiful about our conversations was how creative in Larry's field he is and how generous and forthcoming he was able to be in allowing us to access 3D scans of elements of archaeological digs, to then be presented and woven into the film." said Larry.
Drawing on his Ghanaian roots, his works observes personal heritage – in particular, the connection between the postcolonial position and pop culture.
The series of work allows a chance to have deep conversations around the heritage of colonialism and how that affects our lives
Larry told MLN: "For me, the series of work allows a chance to have deep conversations around the heritage of colonialism and how that affects our lives.
"I'm from a lower-working-class background, and so I was never privileged or surrounded by gallery shows or what is referred to as 'high art'.
"Culturally, I was surrounded by a rich background of relatives; my uncle was one of the first DJs to play sets that combined Highlife with Western R&B."
"The more we find out, the less we know." Larry Achiampong & @davidblandy's new film work, Dust to Data, in @FACT_Liverpool's group show, Future Ages Will Wonder pic.twitter.com/JVrMWN2mNz

— The Double Negative 🇪🇺 (@TheDbleNgtve) October 27, 2021
Larry completed a BA in Mixed Media Fine Art at University of Westminster in 2005 and an MA in Sculpture at The Slade School of Fine Art in 2008.
"My dad played bass and rhythm guitar as did my mother sing within the various church bands they were a part of.
"My mother would tell me many stories about my Akan heritage as a child. She also loves movies, and I would enjoy watching them with her. We would watch all different kinds of films.
"This is all upon the backdrop of growing up mostly in Bethnal Green, where Garage and Grime had their foundations. I was always surrounded by creativity."
Fascinating new exhibition launches year of exploration at FACT Liverpool