An innovative new exhibition at FACT Liverpool has been chosen to launch the arts venue's year-long exploration of the theme of belonging.
Future Ages Will Wonder will open on October 28 with works by nine UK and international artists.
FACT Liverpool is one of the UK's leading organisations for exhibiting and supporting artists that use art and film to embrace new technology and explore digital culture.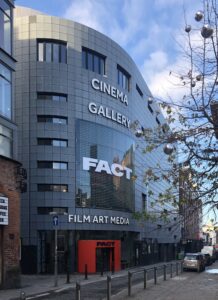 Over the next 12 months, a programme of exhibitions, projects, residencies and events will look at how history, geography, biology and culture shape our ancestral history.
The project also questions how technology can help us to explore new ways of thinking and experimenting with who we are.
Future Ages Will Wonder premieres three new commissions by artists Larry Achiampong and David Blandy, Yarli Allison, Breakwater, Boedi Widjaja, Ai Hasegawa, Miku Aoki and Trisha Baga.
The exhibition is curated by Annie Jael Kwan, an independent curator, researcher and educator, who has collaborated with FACT over the last year to develop the show.
In their newly-commissioned CGI moving-image work, Larry Achiampong and David Blandy invite visitors on an epic journey through time across the colonial sites of archaeology to present day DNA data mining and social media image servers.
Artist David Blandy told MLN: "I'm really looking forward to the show. Larry and I have been working on this piece for over a year, so it's nice to finally be able to show it."
"The piece that we're showing in Future Ages Will Wonder is called 'Dust to Data'. It's the third part of a series called Genetic Automata, which looks at science and its relationship to racism, and the construction of the idea of race."
Dust to Data concentrates on the history of archaeology and how it intersects with eugenics. Eugenics is the idea that you can perfect humanity through selective breeding, a concept supported by one of the fathers of modern archaeology, Flinders Petrie.
"Petrie had an interesting exchange of letters with W. E. B. Du Bois, sociologist and civil rights campaigner who wrote 'The Souls of Black Folk', which became an important part in the making of our work."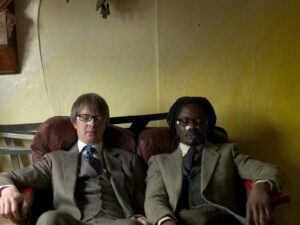 David and Larry asked FACT if they could work with archaeologists at Liverpool University, and Professor Larry Barham was really keen to talk to the duo.
"We had a number of incredible conversations with him that really expanded our ideas around the beginning of humanity.
"We discussed how the European record has always been held up as the default by which all other people are judged, and that so-called 'white' skin colouring is only something that emerged six to 10,000 years ago.
"Hunter gatherers in Britain 6000 years ago very likely were dark skinned. Larry Barham has been an incredible inspiration for the work and in the end even agreed to perform some of the voiceover, which I think is really important, hearing his particular voice, with all his understanding of the subject, saying these words."
David has worked with Larry Achiampong in a collaborative practice for the last eight years, they have looked deeper into the history of Empire, racism, colonialism and how these things affect lives on a daily basis.
"We share a love of popular culture, like videogames, comics, hip hop, and these shared obsessions have given us a space to keep having these difficult conversations.
"This started by forming a hip-hop crew, Biters, then through working on a series called Finding Fanon, before our current series, Genetic Automata. All this time we've also maintained our solo practices, coming together to make specific pieces of work." said David.
But where did David's artistic spark come from?
"I was always the arty one at school, I loved drawing, but I thought I'd be a musician, be in a band playing some sort of indie rock hip-hop hybrid. That didn't work out, and I ended up going to art school, where I kept making work that looked at how art existed in everyday life, in comics, anime, videogames.
"I ended up working in a videogame shop for a few years, realising how intense the fan communities were around certain games, certain virtual spaces, thinking about art like Basquiat, Mark Leckey, Martha Rosler, KRS-ONE, Hideo Kojima.
"Art seemed one way to try to talk about this stuff, that is incredibly important in people's lives but is often ignored or ridiculed.
"I also realised that society's partition of so-called high and low culture was incredibly political, that it talked about how those with power use culture to create barriers and retain a mirage of superiority."
Miku Aoki is fascinated by the work of John Hunter, the 18th century surgeon, pioneer of artificial insemination and researcher of the mutant cell immortalisation.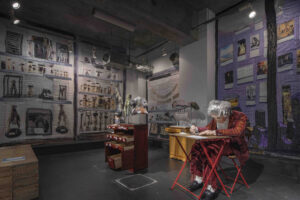 For this exhibition, FACT has commissioned and supported Yarli Allison to produce a new multimedia installation that includes watercolour drawings and an immersive Virtual Reality  film that recreates Liverpool's old Chinatown and tells the stories of its lost Chinese sailors.
In Trisha Baga's film, 1620, the artist explores the mythology of Plymouth Rock, the site where Pilgrims first supposedly set foot in the (now known) United States of America, and now commemorated as a geological symbol of European colonisation.
For his multisite trilogy of artworks, Boedi Widjaja encodes his synthetic and DNA as a linguistic source, along with ancient and original texts to create visual poetry that consider the impossibilities of language after the ruptures of personal histories, as experienced by the artist's migrations from China to Indonesia and Singapore.
Bringing together her interests in biotechnology and design solutions, Ai Hasagawa's speculative works consider the 'traditional' family unit and how genetic research and the desire to discover new models of caregiving and child-rearing affect the possibilities for building families or communities.
Artist duo Breakwater (Youngsook Choi and Taey Iohe), present Fermented Flower, a 'healing' tapestry and audio installation which interweaves historical images with botanical  symbols.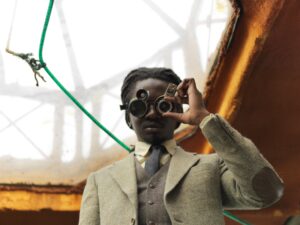 Nicola Triscott, CEO/Director at FACT, said: "Annie Jael Kwan has been FACT's curator-in-residence, remotely, through 2021 and we are delighted to announce her resulting exhibition, Future Ages Will Wonder, which launches our thematic year of Radical Ancestry.
"Despite sadly not having been able to be present in Liverpool due to the pandemic, Annie has worked intensively with the FACT team and the artists to curate this beautiful and intriguing exhibition, which interweaves personal histories and discoveries from contemporary science to create new narratives through which we can rethink belonging."
http://www.instagram.com/p/CVJ2jqmAkpP/
Annie Jael Kwan, Curator said: "Our fascination with scientific discovery and advancement is driven by the desire to better understand the world around us, and ultimately, our place and role in it. Radical Ancestry has opened up such complex narratives to explore curatorially, and I'm honoured to work with these outstanding artists from across the UK and internationally. Their inspiring practices provide such rich connections from the microscopic to the interstellar, in telling us old and new stories about humanity."