Spooky season is upon us and with the arrival of Halloween comes along the annual question 'What will I go as this year?'.
A witch, skeleton, vampire, or devil are all the classic go-to costumes to wear; however, if you are wanting to stand out from the crowds of fallen angels, why not have a browse to see what's out there.
If you are wondering 'which lipstick shade will bring out my fangs?' or 'which eyeshadow tint will steal focus from my gouged eyeball?' Jaylor Beauty will be sure to help you out.
Jaylor Beauty is a Liverpool-based cosmetic and hair business created by make-up artist Jade Fazackerley.
In an exclusive interview with MNL, the 23-year-old told us of how she went into the make-up industry.
"My experience in make-up started off when I was 18. Everyone always said how great my eyeshadow was and they always said I should go into make- up.
"It was never really a path I had considered taking, I always had my mind set on singing. I said 'make up is too competitive', so looking back on that now it's quite funny because singing is probably one of the most competitive industries you can get into."
The Liverpool born and bred beauty expert prides herself in using only vegan make-up products with no animal cruelty or abuse.
The MUA is also P Louise trained at the Manchester Academy and is now a fully qualified hair and make-up artist.
I think lockdown was a blessing in disguise to be honest
Her business did not have the smoothest start, as Jade explains.
"I only actually started doing make-up just before the first lockdown, so it was a struggle going into it not being able to build up a clientele – I was only able to put make-up on myself and my sister.
"I think lockdown was a blessing in disguise to be honest, because that gave me the opportunity to focus all of my attention on the business and it really helped build my socials especially my Instagram."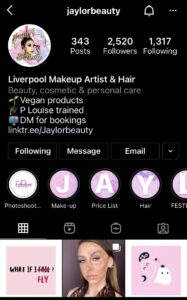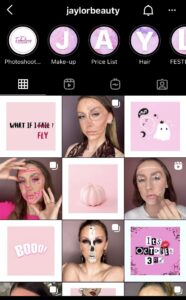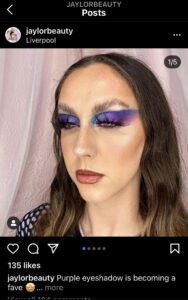 Jaylor Beauty caters for every occasion, including bridal party hair, festival looks, weekend glam, and date night.
Jade has also recently been doing the make-up for photoshoot looks.
"With the photoshoots we do themes, so I've gone through all the eras like 20s, 50s, 80s, 90s and even the noughties. It's a lot of fun."
No matter the time of year, Jaylor Beauty do Halloween looks all year round.
"I have already done some Halloween looks this year and planning on doing for the rest of the year – I'm always game to do a Halloween look. It's just nice to do something creative and really get my brain working and challenge my talents.
"I tend to use the P Louise paint, which is a cosmetics paint rather than the average face paint. People are just less likely to be allergic to the products and it's a better consistency to work with and an amazing quality."
To find out more, visit Jaylor Beauty's Instagram page.