A north west football club that brings bereaved families together is playing a series of memorial matches to mark baby loss awareness week and pregnancy and infant loss awareness month.
Angels United FC was founded in October 2020 by a group of fathers who have all lost a child.
Last weekend, they played against Sands United, another team of fathers who have experienced loss.
As we look back on #BabyLossAwarenessWeek we are filled with a sense of pride on what we achieved. As the week ends please remember we are here for all family members affected by the loss of a baby or child at any age
Please reach out & let our family help yours #BreakTheSilence pic.twitter.com/Sj1BXzz0vK

— Angels United FC (@AngelsUnitedFC) October 16, 2021
Oliver Monk, co-founder of the club, said: "We don't see it as a club we see it as a family that is always there to support you whenever you may need it.
"It is amazing to know that when you are having a bad day, when your having a down day you have a group of people that just understand it.
"Baby and child loss still has such a stigma attached to it and some people are scared to talk about it with you as they don't want to upset or offend, but everyone in the Angels family just gets it."
The 33-year-old took to Twitter to say: "No one chooses to be a part of Angels United, we all wish we weren't and that we had our children with us carrying them in our arms and not our hearts.
"It really is the club no one wants to be part of."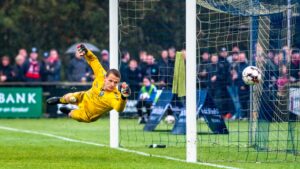 This month aims to raise awareness of how pregnancy loss and baby loss affects thousands of families each year across the UK.
Bereaved parents and those who are close to them support each other to commemorate the lives of babies who died during pregnancy, at or soon after birth and in infancy.
Children are remembered on each player's shirt
Instead of wearing their own names on their shirts, the players wear the names of their children, to carry them with them when they play.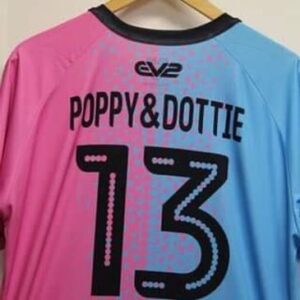 Olly urged people to get help and support: "It's so important to break the silence and get people talking. We are trying to get people to open up more."
As the Greater Manchester-based club celebrates its first anniversary, the team is hoping to expand its reach. There are plans to welcome a professional counsellor to the team to provide more specialist support for families.
Olly continued: "We have achieved so much in the last 12 months when you take into account that the first 4-5 months we had to operate under Covid restrictions.
"We also have started looking into how we can expand Angels United around the country.
"By putting together a plan so that if we have people reach out we are able to help and assist them in starting up in other areas. This will be in line with the ethics and values we have installed into Angels United since the first day."
Their new mission is to help anyone who has suffered heart-breaking bereavement by making sure that mums and partners of players are involved with all the decisions that need to be made in relation to the club.
The club also aims to become a registered charity and expand so that they can offer support to families all over the UK.
You can donate to Angels United FC. They are trying to raise £5,000:  https://www.justgiving.com/crowdfunding/james-riley-5
If you'd like to learn more about how you can get involved with Angels United, contact the club. Get in touch via their social media pages on Facebook, Instagram and Twitter.