A personal trainer is making it her mission to help women across Liverpool better themselves and gain a healthier lifestyle with her online programme.
Aimee Ormesher, 30, created her online programme "8 weeks with Aimee" in 2018 to help women lead a happier and fitter lifestyle. It's been her mission since she first started.
Fully qualified Personal Trainer and Online Coach, Aimee has a Diploma in Nutrition & Supplementation and says she has devoted her career to making health and fitness something that's achievable and attainable for every type of person.
Aimee, the fat loss coach, who has international clients, is known to be committed in taking control of this common problem and is making it her mission to make women feel a lot more body confident.
"Eight weeks with me makes fitness and nutrition a part of your life, without completely taking it over," she said.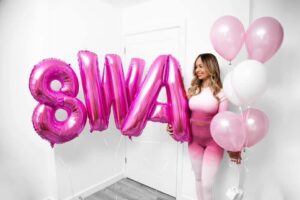 Fitness programme includes:
Eight weeks with Aimee includes a structured 8 Week Nutrition program, with an expert coach to provide feedback; daily nutrition practices and expert-designed home or gym exercise programs.
Aimee pointed out the differences between her programme and others.
"For starters, I don't prescribe fad diets or ridiculous exercise routines – we all know those don't last. Instead, I have given you the option of a home workout, gym workout programme to choose from," she said.
"Then you are added into a Facebook group where I will be your personal coach who will help you build small nutrition and lifestyle habits, one at a time, that lead to life-changing results.
"By the end of the program, you'll be in the best shape of your life — guaranteed. And you'll have the skills and tools to stay that way for good".
"No more weird diets,

guaranteed results,

No regrets."
Client Caitlin Mills, from Liverpool, said  she is a 'completely different person' after following the programme.
"I was so fed up with eating terribly and then feeling terrible as a result, but I didn't know how to fix this as I knew nothing about nutrition.
"(Now) I am a completely different person. I am so much happier, sleeping better, so energetic of a morning, wanting to exercise. "I'm so shocked at how much of a change this challenge has meant to my life".