Liverpool One has played host to Healthwatch Liverpool's inaugural Mental Health Marketplace event.
The event yesterday aimed to promote the importance of mental wellbeing and showcase the array of support services available across Merseyside.
It was staged in honour of World Mental Health Day Sunday October 10. More than a dozen local services gathered at Liverpool One's Paradise Place to raise awareness and offer free advice and information.
Healthwatch is an independent organisation which acts as a watchdog for patients and health service users in the city. The constructive feedback they provide ensures that service commissioners are offering the best possible care to the people of Liverpool.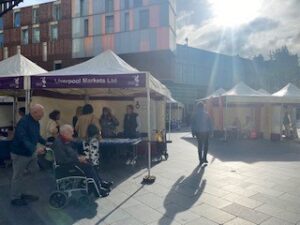 Claire Stevens, part of Healthwatch's engagement team, told Mersey News Live: "We wanted to do something to mark World Mental Health Day and to give people the opportunity to come down and see some of the organisations that could provide mental health support locally."
One such organisation was Kooth PLC, an online mental health and wellbeing platform for children, young people, and adults across the UK.
Kooth, which targets 10 to 25-year-olds and their adult-centric sister site Qwell, offer a range of services including counselling, a peer-to-peer support forum and an online mental health magazine.
"We've definitely seen an increase in demand," said Kooth's Stephanie Lord.
"We've noticed that the number of presenting issues that we're seeing young people bringing to our service is a lot higher.
"I think lockdown and being away from your peers and being stuck at home has been quite challenging for a lot of children and young people, as well as adults."
Certainly, the repercussions of the Coronavirus pandemic have extended beyond the physical implications of the virus and resulted in an unprecedented strain on mental health services.
An NHS survey reported that, in 2020 the proportion of children and young people suffering with a mental disorder had increased to one in six. This is compared to one in nine in 2017.
Furthermore, more than one in five 17-to-22-year-olds with a probable mental disorder reported that they had decided not to seek help for a mental health concern due to the pandemic.
"It's about raising awareness," said Stephanie Lord.
"We've had people come over to our stall already who live in Liverpool and didn't know about Kooth or Qwell and were taken aback by what we offer."
She added: "There are so many people who could really benefit from knowing about our work so it's a great opportunity to raise awareness and connect with other services and agencies."
In May 2021, a report published by the Office for National Statistics revealed that around one in five (21%) adults experienced some form of depression in early 2021 (27 January to 7 March); this is an increase since November 2020 (19%) and more than double that observed before the coronavirus pandemic (10%).
the last 18 months have had an impact on everybody's wellbeing
Healthwatch's Claire Stevens said: "Even accessing GPs is problematic these days.
"That relates to what we're doing today in terms of mental health because people might not have needed support for a specific mental health problem before, but the last 18 months have had an impact on everybody's wellbeing."
She continued: "Mental health has got higher up the agenda but it's still very hard to access mental health support which is one of the reasons that we're doing this."
Although the NHS provides crucial mental health resources, Ms Stevens was keen to emphasise the importance of other platforms available to people in need of help.
"There's a lot of voluntary community organisations here today so it's not just the NHS that can provide support, its often peer support and talking therapies that can be just as important to people."
You can get help from some of the organisations involved at:
https://www.talkliverpool.nhs.uk/about-us/
https://www.maryseacolehouse.com/