As Liverpool City Council and Merseyside Police join forces in a strategy to help women feel safer on the streets, one city councillor says the most important thing now is to make misogyny a hate crime.
The Safer Streets Fund, which has seen the Merseyside Police Commissioner, Emily Spurrell, receive £270,000 from the government, will be used to make women feel safer when using transport in the region.
What will the fund be used for?
The fund will be used to provide more CCTV cameras around busy city centre bus stops and provide 'safe spaces'.
However, Councillor Kris Brown told MerseyNewsLive: "We really need to make this a crime, it's up to the Merseyside police to do all we can, even though the law isn't there to fully support it, but we do need a change in law."
Women's safety on the streets has been a growing concern around the world, especially since the recent murders of Sarah Everard and Sabina Nessa, which have sparked shock and sadness amongst women.
A survey by the Merseyside Police Commissioner found 54% of women felt unsafe using public transport at night and 42% were concerned with using it in the day.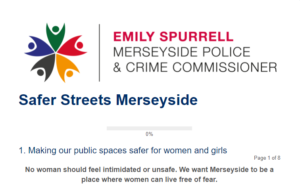 Liberal Democrat Councillor Brown proposed a council motion in February to make sexual harassment a specific crime.
He believes this new Safer Streets scheme is a good development.
He said: "The council and police have done some good work in providing safe spaces, in relation to protecting women. But we've also had some horrific attacks to members of the LGBTQ+ community."
Merseyside Fire and Rescue has already made stations overnight safe spaces for people to go to if they feel their safety is being threatened.
With nightlife now open and new students arriving in the city, the council is working with universities to make sure young women feel protected on the streets at night.
Cllr Brown said the universities will provide stewards.
"(Stewards are) someone that's always around and going to clubs, so that there's always designated people to keep a watchful eye. They're trained to deal with those situations."
The police commissioner is working with local schools and has put programmes in place to educate young people in hate crimes towards women.
Cllr Brown added: "One of our parliamentarians is actually putting through a motion to make misogyny a hate crime.
"We have to keep pushing these motions otherwise we get to a situation like Sarah Everard's. We end up with other serious incidents which are happening every day.
"Women being catcalled in the street just normalises the situation. We've got to keep calling it out at every opportunity and educating people."
Liverpool Council and Merseyside Police are continuing to work with other partnerships to improve safety on the streets.
Cllr Brown said: "It's constantly trying to change the culture, change the narrative and get the government to act. Everyone of our public institutions needs to take it seriously."
Cllr Brown told MNL about the real issues we need to be addressing, click the link below to hear more: