Families across Merseyside are facing a harsh winter following a Government decision to cut Universal Credit payments, say charity campaigners.
In response to the pandemic, an increase of £20 to Universal Credit was introduced to help families get through an especially difficult time. However, from October 6 this help was retracted and now many families face increased hardship in the coming months.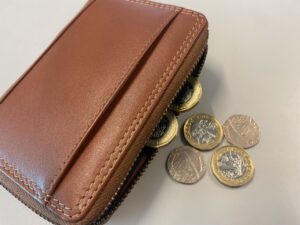 Research conducted by the Rowntree Foundation shows that around 53% of working age families with children in Liverpool claim universal credit or working tax credits. This means that over half of the population of the city could feel the impact of this loss.
Charities across Liverpool are banding together in aid of those who will face a tough winter. Liverpool Community Advice charity is urging people to get into contact with them for financial advice.
Helen Fisher, Financial Capability and Training Manager of the organisation told MerseyNewsLive: "Families will lose around £90 per month now the uplift has finished.
"This is coupled with what will be an astronomical rise in energy costs and the cost of food caused by the fuel problems and shortage of haulage contractors.
In all this is a perfect storm
"In all this is a perfect storm, which will have serious implications to so many families in Liverpool.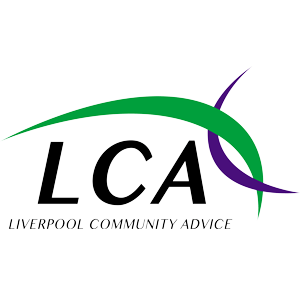 She added: "The Government suggests getting a second job, asking for more hours at work, applying for an advance on your UC payment- none of which are practical solutions.
"They have also announced that £1/2 billion will be made available to local authorities.
"However, there have been no details of how this will work in real terms.
"In all, this winter will be very gloomy and anxious for so many Merseyside families.
To get into contact with Liverpool Community advice head to their website:
https://www.liverpoolcommunityadvice.org.uk/?fbclid=IwAR0u5JqSrnJMesLDxkEONwDQ6hQ6Ml6O-JXIXscAKnfoKDduZfDYeu_rrCw
Despite calls from many MPs across the UK to make the increase of payment permanent, the Government decided to go ahead with its plan. Many families will now be even more reliant on food banks, charities and loans just to feed their children.
Labour MP John Donnell took to twitter to share his opinions.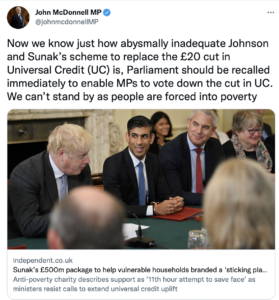 Prime Minister Boris Johnson has continuously defended the decision, saying he has no choice but to make the cut. The PM instead intends to focus on increasing wages.
He told broadcasters back in August: "My strong preference is for people to see their wages rise through their efforts rather than through taxation of other people put into their pay packets."
However, it is not just those unemployed who receive the aid of Universal Credit. Many workers in low-income roles need extra help to get by. A study showed that working families make up around 60% of those who will be affected by the cut.