Campaign group Reclaim These Streets (RTS) have reacted cautiously to Chief Constable Serena Kennedy's statement on tackling violence against women and girls.
The group were responding after Chief Constable Kennedy outlined Merseyside police force's commitment to work alongside other agencies to protect women and girls from violence and create a safer, more respectful society.
Reclaim these streets #Reclaimthesestreets are a group of campaigners who began organising a vigil for Sarah Everard, and all women lost to violence.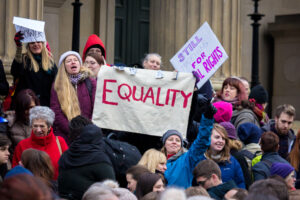 Jamie Klingler, who co-founded Reclaim These Streets, supports Chief Constable Kennedy's zero tolerance approach towards violence against women.
However, she believes more should be done within the police to protect women and girls.
She argues that the only way for women to feel safe is by invoking a structural and cultural change of our society.
"Ensuring it actually tackles misogyny and doesn't brush it under the carpet. The Prime Minister dismissing misogyny and refusing to make it a hate crime illustrates that tackling violence against women and girls is not a priority of this Government," she said.
She believes that to protect women and girls, boys should be educated on these issues.
"We need to address misogyny from the early years, starting with respect and consent classes in schools.
"That's why Reclaim These streets has partnered with ShoutOutUK, which has a fantastic record of helping young people grapple with many of these important and contentious issues.
"This engages boys and girls in a conversation about consent and respect from a young age.
"We must help the next generations of boys and men be feminists who champion women's right to walk unmolested and un-harassed in all public spaces."
She added: "No one should be able to become a member of our police force, if they have a record of sexual assault or misconduct. The police are the people tasked with keeping us safe, the people we go to when we need to report a crime or disclose personal information.
"If an officer already in the force has been accused of domestic violence, harassment, assault, or any kind of violence against women must be immediately suspended until a thorough and independent investigation has taken place."
In March this year, Sarah Everard was murdered. Following the arrest and sentencing of former police officer Wayne Couzens for her murder, the police force has been under scrutiny.
Her death highlighted the issue of violence against women and girls, which has resonated across the country.
Video – please watch.
I am committed to working with the PCC, partners and the third sector to eradicate violence against woman & girls in all its forms here on Merseyside. pic.twitter.com/pESD2qbSjQ

— Chief Con Serena Kennedy (@merpolchiefcon) October 1, 2021
In a statement on her Twitter account, the Chief Constable has pledged to continue taking a "zero tolerance" approach towards any member of Merseyside Police who seeks to abuse their position for sexual gain.
And she has issued advice to the general public about how to verify the identity of a police officer and the validity of any arrest or stop-check:
Police officers will always carry identification and will know that people are entitled to ask them to show it to them to verify who they are.
Plain clothes officers and detectives (who do not wear a uniform) very rarely work alone but if they do, they will still carry identification.
All police officers are expected by their force to be clear in telling any member of the public they are interacting with: who they are, what they are doing, and for what policing purpose.
People can legitimately ask for an officer's collar number and should be given it.
You can ask to speak to the officer's control room to verify them over their radio or by calling 101.
She adds that the murder of Sarah Everard has impacted her as a police officer, woman and mother: "The murder of Sarah Everard by a serving police officer has rocked policing nationally."
"I will not tolerate those officers and staff who abuse their position for sexual gain, and I recognise the huge impact it has on the people we serve and on public trust and confidence."
"The despicable actions of Wayne Couzens have sickened and angered me as a police officer, as a woman and as a mum to two teenage daughters."
Serena Kennedy, only one of nine women chief constables in the UK, assured the people of Liverpool that action will be taken to ensure safety across the city and said: "We need a robust public health approach in relation to violence and intimidation against women and girls.
"And we will be working closely with the five local authorities; the health service; Crown Prosecution Service; Probation; the courts and third sector organisations on a regional strategy that can help us to make our communities safer."
Kennedy has urged the people of Liverpool to challenge sexist actions and behaviours.
"I want the streets where women walk, the homes where they live, the workplaces where they earn a living, and the places where they socialise to be safe, respectful and equal.
"For years, women have had to 'put up' with unwanted sexual touching, sexist comments and gestures, and this needs to stop.
"It is the responsibility of us all to challenge these behaviours wherever we see them."