Campaigners in Merseyside have said trust in the police is low following the cancellations of vigils remembering Sarah Everard back in March.
Members of the Reclaim These Streets movement believe the public's confidence in law enforcement to deal with sexual crimes has been low since the disappearance and murder of Ms Everard.
Reclaim These Streets are a group of campaigners who say they want to channel the collective grief, outrage and sadness following the death of Ms Everard to improve women's safety.
Ms Everard's body was found in woodland in Kent more than a week after she was last seen on March 3.
Wayne Couzens, a serving Metropolitan police officer, was charged with her kidnap and murder.
Vigils were organised by Reclaim These Streets across the country to remember Ms Everard.
However, many were cancelled or shut down by the police.
Isabel Burke was the organiser for the Reclaim These Streets campaign in Liverpool.
She called the decision to shut down the Liverpool vigil a "source of contention" for her, especially as other demonstrations have gone ahead.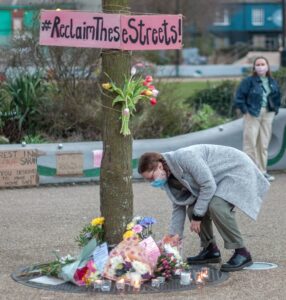 "There was contentious messaging from police forces emphasising that these gatherings were illegal, even after the high court ruled that protests were not, by any means, illegal," she said.
"We've seen anti-Covid marches allowed to walk through the city unaffected.
"Yet we were told under no uncertain circumstances that we would not only be breaking the law but served with a £10,000 fine should the vigil go ahead.
"It's a complete disregard on behalf of the police to take into account the severity of the situation regarding violence towards women and the public attitude towards this matter."
Lack of trust in the police
In 2020, official crime statistics showed there was a small increase in reported sexual offences (2.4% rise compared with 1.7% rise in England and Wales).
Deputy Chief Constable Serena Kennedy said: "We believe that this increase can be attributed to victims feeling more confident in coming forward, enabling us to take the necessary action against offenders.
"That said, there is still work to do to encourage more victims to come forward and ultimately increase the number of offenders prosecuted."
However, Ms Burke believes cases such as Sarah Everard may make women more reluctant to report sexual crimes to the police.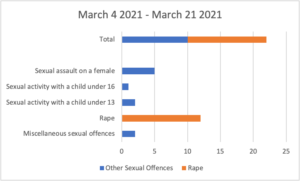 In the weeks following Ms Everard's disappearance there were only 22 arrests made in Merseyside for sexual crimes.
The data shows there were 12 arrests made for rape and 5 for sexual assault.
But Reclaim These Streets say there is a disparity between arrests made and sexual crimes committed.
Ms Burke believes the figures suggest a lack of faith in the authorities' ability or determination to deal with sexual crimes.
She said: "These stats are very interesting but not at all surprising.
"I think the main reason people fail to report sexual crimes to the police is the prosecution rate.
"Sexual crimes are traumatic enough without having to go through a dragged-out interview and trial process.
"For many people it is simply not worth it when they're extremely unlikely to get any sort of positive outcome."
A hate crime?
Reclaim These Streets say we will not see changes to the numbers of arrests made until misogyny is a hate crime.
A recent survey by UN Women UK found 86% of 18-24-year old women in the UK had experienced sexual harassment.
Following Ms Everard's murder, the Government announced on March 17 that police would begin to collect data on crimes motivated by hostility towards women.
But this will not happen until Autumn and only on an experimental basis to start with.
Ms Burke said: "As there's no laws surrounding it, it's difficult to install the severity of the issue.
"The police need to be able to record a crime when it's motivated by someone's sex or gender in the same way they can when it's based on race or sexuality."
She also calls for a greater emphasis on education and for the narrative to change that women are to blame.
"Women are encouraged to take precautionary measures.
"These things are instilled into us as women from a young age so it's almost unconscious thought that we aren't safe and need to protect ourselves more.
"It's no longer good enough to have the onus consistently on women to protect themselves.
"It comes down to educating men.
"It needs to be made abundantly clear that this behaviour cannot and will not be tolerated any longer," she finished.
For more stories about crime in Merseyside, click here.
Feature image by Terry Kearney (Creative Commons licence)