An online vigil to mourn Sarah Everard and all victims of male violence was watched by hundreds in and outside of Liverpool.
The broadcast organised by Reclaim These Streets Liverpool was held on Saturday 13 March at 6pm after the branch cancelled a planned outdoor vigil.
"The online vigil was so powerful"
The virtual event was led by journalist Ellie Phillips who was joined by a panel of guest speakers including Rebecca Ferguson and local MP Alison McGovern among others.
Reclaim These Streets said the occasion would allow people to join together under a common goal of furthering the discussion around women's safety.
In Merseyside, sexual offences rose by 2.4% in 2020 compared with the 1.7% increase in England and Wales.
Organiser Isabel Burke said: "I think the online vigil was so powerful. I've had so many requests asking if people can use sound bites for teaching, so the fact that it is up on Facebook now forever as an educational and supportive tool is great."
Panellists took turns to speak their thoughts about the culture of male violence and to honour Sarah Everard's memory in their own way.
Speaker Alison McGovern, Labour MP for Wirral South, said: "Change begins with men and them making different choices. Choosing to not be a bystander and standing up for the women in their life by calling out other men. I ask them to join with us.
"Change begins with men"
As a legislator, I don't think that the law is good enough at the moment. Because misogyny is not considered a hate crime. And that has got to change."
Natalie Denny, Liverpool author and programme manager of the Anthony Walker Foundation among other projects, was also invited to speak.
Natalie said: "Women are disproportionately assaulted by people they know, sometimes intimately. What leaks out onto the streets is just a precursor for what is happening at home."
This rang especially true for the Merseyside region where three women were murdered in a single weekend in January.
The live stream on Facebook amassed 741 comments during the 90-minute broadcast.
Hostilities between police and public at cancelled outdoor vigil
Simultaneously a slightly different scene was occurring outside the bombed-out church in Liverpool city centre.
Initial plans for an outdoor vigil were arranged to take place on the steps of the Church of St Luke.
After being advised by Merseyside Police that the vigil could not go ahead lawfully, organiser Isabel Burke cancelled and arranged an online replacement.
Isabel said: "I wasn't under the impression that what I had planned was illegal until the police said otherwise, so I was really disappointed that we were unable to go ahead. It's a shame they were not able to facilitate the plans that had been made."
In an official statement, the Liverpool branch of Reclaim These Streets said the outcome was disappointing but they encouraged the public to comply.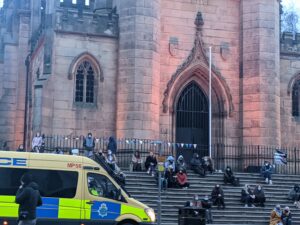 Around 40 people chose to visit the church steps despite warnings, to hold a minute's silence for Sarah Everard.
Some of the attendees took to social media after the vigil to complain about the amount of police officers there to disperse the small crowd.
"We were threatened with fines and arrest, 'wherever necessary'"
Meg, 22, went to the cancelled vigil with her sister, 19. They felt that mourners should be allowed to leave candles and sit if socially-distanced.
"The police seemed extremely hostile from the second we arrived. It felt like they were taking the vigil as a personal attack on them more than they were concerned about Covid breaches."
Becca, 21, also attended the vigil with her friend to lay candles on the steps.
Becca said: "The police told us that they were going to use 'enforcement measures' if we didn't move on as they asked. When I asked him to clarify what those measures were, we were threatened with fines and arrests, 'wherever necessary'. They all had body cams on filming us as we spoke to them. It had been peaceful and socially-distanced the whole time."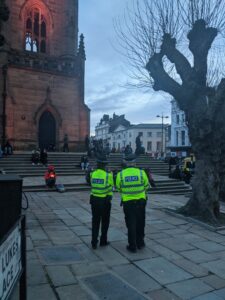 Both women felt that some officers did not keep an appropriate distance despite apparent coronavirus concerns.
Meg claimed that one officer who told her to leave wasn't wearing his mask properly.
Merseyside Police issued a statement following the event.
Deputy Chief Constable Serena Kennedy said: "A second smaller group arrived at the location arrived after the minute silence had concluded and the original group had left. They didn't engage with officers and refused to abide by restrictions."
Statement from DCC Serena Kennedy thanking those who who attended the minute silence for Sarah Everard last night and worked with police officers to ensure that they ensure public safety 👉 pic.twitter.com/VRJ274B11f

— Merseyside Police (@MerseyPolice) March 14, 2021
Three fixed penalty notices were issued.
Reclaim These Streets plan to arrange an in-person vigil as soon as coronavirus restrictions allow it.