St Patrick's Day or St Paddy's is a cultural and religious celebration held on the March 17, the traditional death date of Saint Patrick, the patron saint of Ireland.
Celebrations generally involve public parades and festivals, Irish traditional music sessions and the wearing of green attire or shamrocks.
Christians also attend church services and lent restrictions on eating and drinking alcohol are lifted for the day.
Because of this, drinking alcohol such as Irish whiskey, beer, or cider has become such a significant part of the day.
Liverpool is known for its St Patrick's celebrations.
However, with all the restrictions in place due to coronavirus and pubs still not being open, this year will see the city celebrate the day a lot differently.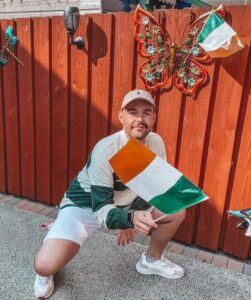 For Aodhán Benso, 24, from Belfast, this will be his first-year spending St Patrick's in Liverpool.
"It's quite sad actually because Liverpool is quite famous for its St Paddy's day and all the people from Ireland usually come to Liverpool to celebrate because it's so good".
"Normally it is a big deal my friends and I would plan for weeks.
"We would all meet up at someone's house, listen to Irish music and then we would go into the city centre, watch the parade then go to the bars."
With everything being different this year and St Paddy's not being a national holiday in England, Aodhán will be working.
But he is still keen to celebrate:
"On Wednesday I'll be wearing a St Paddy's themed outfit.
"I've got an Irish flag tie, and myself and my friend who I work with will be bringing in sweets and crips from Ireland for the kids to try.
"Then my boyfriend is Spanish and has never celebrated St Paddy's so I'll be cooking him an Irish meal and of course I'll be wetting my shamrock".
Despite it all Aodhán is still quite excited about the day and said: "I'm Irish and it's one of the things I'm most proud of. My culture, my country. I'm patriotic, I love everything about it. I'm glad I have this day to celebrate".
Liverpool Celebrations to get involved with:
March 17, 18:00–19:00: Patrick's Words and Worlds: A St Patrick's Day Event (online): A discussion between Dr Sharon Arbuthnot and Professor Máire Ní Mhaonaigh, two of the authors of A History of Ireland in 100 Words.
March 17, 19:00–21:00: St Patrick's Day Parade: At the Liverpool Metropolitan Cathedral.
Featured Image: 'Liverpool Irish Scouse and Proud' by Andrew Teebay