Thefts targeting churches and religious buildings in Liverpool are at a five-year low according to Merseyside Police statistics.
A freedom of information request reveals thefts from churches hit a five year low from January 2020 to February 2021.
A total of 286 thefts from churches have been reported in Liverpool since the start of 2015.
Most of these thefts from churches occurred in 2016 when 62 were reported.
Since 2018 thefts targeting churches in Liverpool have been on the decline.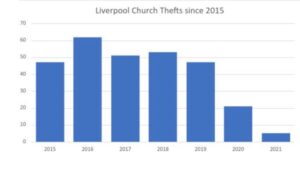 In total 26 have been reported between January 2020 and February 2021.
Community Police Officers have been liaising with Liverpool's religious community to help make churches more secure.
Father Neil Ritchie, Catholic Chaplain at Liverpool John Moores University is pleased with the work Merseyside Police are doing to tackle thefts from churches.
Fr Ritchie said: "The contact I've had has been with the Community Police Officers.
"Couple of them called in a couple of years ago, saw what we do here and made a couple of suggestions.
"They gave me contact details of someone within Merseyside Police… to contact if we had any problems.
"And that kind of thing is really important."
Fr Ritchie believes thefts from churches are a reminder to the religious community that criminals have no respect for religious buildings.
Fr Ritchie said: "If you go back 40 plus years even local thieves wouldn't have touched a place of worship.
"That would have been off limits.
"I think it's a sign of the times that that kind of respect for churches and religion has broken down.
"When we hear something has been stolen for a church it's a reminder that we do live in a very secular age."
Featured Image credit: Connor Fairhurst