Socialist Students have continued to keep up pressure on universities in Britain following their nationwide education fees protests.
The group organised campaign stalls and open-air meetings in 26 universities across the country last week.
They believe the delays in the return to face-to-face teaching is another attack on students who have continued to pay tuition and rent fees throughout a disrupted year.
In Liverpool last Wednesday, a handful of students took to the Guild of Students to call for fee refunds.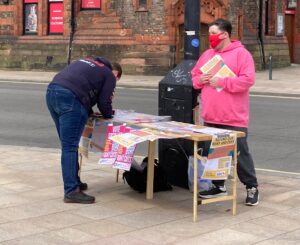 Alex Smith, the organiser of the event and Trade Unionist and Socialist Coalition candidate for Cressington Ward, said:
"Students have been scapegoated over the last year.
"There has been a ploy by universities and the Government to get students into halls of residents to get their fees…even though students could have studied at home from the very beginning.
"We want to mobilise where possible student rent strikes and opposition to those moves."
Socialist Students video report- Wednesday 21 April
National student protests
Earlier this year, representatives from The University of Liverpool lobbied their university for a rent rebate for December and January.
They said students signed rent contracts believing there would be a return to in-face teaching.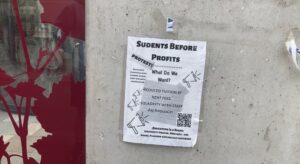 As part of the Government's roadmap to recovery, in-face teaching will return on May 17.
Protests in Manchester drew national attention in November when University of Manchester students won a 30% reduction in first semester fees.
A month of fractious relationships with the university culminated with 15 students occupying Owen's Park Tower.
The £4m reduction is thought to be the largest rebate won by students.
Socialist Students hope these protests can unite students to fight for the removal of tuition and rent fees in general.
Alex Smith added: "The rent refunds which have been won by students this year prove that when we organise we can win.
"It's of urgent importance that we now begin to link up the struggles happening locally on different campuses into a national student movement and take the fight to the Tories.
"Our universities have suffered a decade of underfunding which has meant cuts on campus to jobs, student support and mental health services.
"Tuition fees have skyrocketed and maintenance grants have been abolished.
"[These are] direct attacks on all students, but especially those from less well-off backgrounds," he finished.
For MerseyNewsLive's original coverage of the story, click here.
For more politics stories, click here.
Featured image by Paddy Edrich.