A grieving Liverpool daughter has hit out at new pilot social events being held in the city which she says "laughs in the face" of those who have lost someone during the pandemic.
Funerals are still only allowing 30 attendees yet 6000 people are expected at a pilot club event in Liverpool this weekend.
The event, held by Circus in Bramley Moore dock, is one of many across the country organised as part of the Events Research Programme to provide scientific data on how venues can operate safely as lockdown is eased further.
A total of four events will be held in Liverpool including a business festival, music festival, outdoor cinema and the Circus club nights on Friday and Saturday.
Megan Smith, whose father lost his life to Covid in 2020, has expressed her "conflict" when it comes to the events.
She said: "I know normal life does have to resume and if I hadn't lost someone to this awful virus I would be welcoming it.
"But I just think allowing this is laughing in the faces of not only those lost to Covid, but every family who have planned a funeral during these times."
Funerals are still under strict restrictions with mask wearing and social distancing.
The maximum number for attendance at the services is 30 people, meaning many family and friends are unable to pay respects.
Megan's father Paul Smith who died April last year, was only allowed a funeral of 10 in attendance.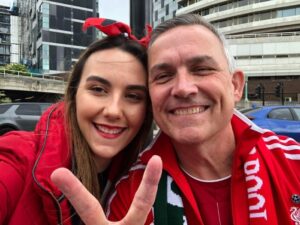 He was not allowed to wear his own clothes and was placed in a bag in his coffin due to fears of contamination.
Megan said: "Me and my mum were very upset with how dad had his final goodbye as it felt rushed, impersonal and not dignified like he deserved.
"We had a 20-minute service at the crematorium that was it, and then back home no celebration, no nothing."
But now people are being allowed to go clubbing for the first time in over a year with thousands of other people.
Many are expected to be angry at this new step especially those in the same position of loss as Megan and her family have been.
She said: "I  feel that a life and celebrating someone's life, giving them a dignified ending, is more important than a concert or event.
"I think that people's lives should be valued more than the economic side of things."
There is still no sign from Government that restrictions on funerals may be ending sooner as the road out of lockdown continues.
For more news, visit here.
Image Courtesy of Megan Smith