'Pandemic parents' who gave birth during lockdown can now attend support groups at Little Peacock coffee shop in Mossley Hill.
Between April and June 2020, the strictest lockdown period, 153,464 babies were born in England and Wales.
However, until now, new parents and their babies have been unable to access face to face support.
Last month, the Little Peacock coffee shop re-opened with a trial support group for parents and carers of 'lockdown babies'.
The coffee shop was taken over by new owners, Seán Gleeson and Liz Wilson after it was forced to close due to the pandemic.
Under-ones and their parents can meet indoors at the coffee shop to play, socialise and enjoy refreshments.
Clare Maxwell, Senior Lecturer in midwifery at LJMU said the lockdown has been hard for parents.
She said: "Support groups for new parents are absolutely critical.
"Particularly if you're a new parent, it's an extremely stressful and challenging time postnatally."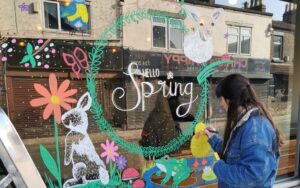 Josh, 29 and Lucy, 33 are first time parents of four-month-old Theo.
They said it wasn't their first time visiting the café and were happy for the support.
The couple from Garston said: "It was the first time he'd seen other people, he'd never seen another baby before.
"He thought he was the only small person in the world until he came here.
"Until he came here and then he saw all these little people and was amazed by them all."
Clare Maxwell said research has shown that the time from pregnancy to the age of two, is critical for brain development and in relation to attachment security.
The owners of the shop agree it is vital for babies under one to socialise face to face and the support for parents is also crucial.
Seán said: "Lots of mums who haven't been able to come out and see other parents, you'll see them at the end of session swapping numbers."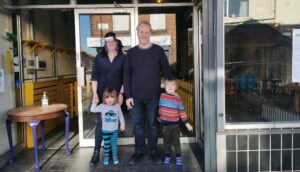 Due to the massive success of the project, they now run sessions every day and have also opened up to toddler groups.
Since April 12, 12-26 month year olds and their parents have also been able to enjoy the groups.