by Sam Tallon
Filming has taken place in Formby this week for the Netflix production of Harlan Coben's 'Stay Close'.
The production which stars James Nesbitt, Richard Armitage and Cush Jumbo has been ongoing at the site of Shorrocks Hill Country Club on Lifeboat Road.
The former nightclub and country club, which has been painted bright pink for the production, has remained closed for a number of years following a fire at the site's stables in 2009.
The Netflix series, due to air in 2022, follows the stories of three people whose dark secrets resurface.
This is not the first time Merseyside has been the backdrop for a major series.
In recent years, Formby beach and Ainsdale woods were the location for a Martian 'arrival' in the BBC's 'War of the Worlds' based on H.G. Wells' novel.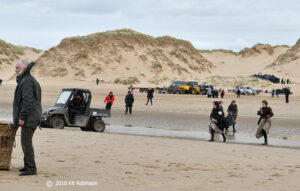 Southport Pier was a backdrop for the Sky drama Tin Star: Liverpool, starring Tim Roth.
It was the third series, following a move from Canada to the UK.
Karl Prescott, who works for Silcocks Funland and Pier in Southport, said: "There was a local girl in the locations department that knew people who worked for us and a message came through.
"They used the Embassy for the café scene and Funland for the arcade scene in episode 5."
Mr Prescott used to run an agency providing extras for Coronation Street and Emmerdale as well as films such as Sherlock Holmes.
He was saddened he was no longer in the industry after the 2008/2009 financial collapse forced him to close his business.
"We went from filming most days to nothing for weeks and the business became unstable.
"The industry is so much bigger now and I do wish I was still doing it," he added.
"Southport Pier, High Tide 4th December 2013" by Gidzy is licensed under CC BY 2.0
Southport's appearances on the small screen are not limited to its most well-known locations.
The Warwick B&B on Bath Street, was featured in the BBC's 'Ordinary Lies'.
John Hardiker, the proprietor of the guest house, said: "They were going down the street looking for suitable properties and we got selected.
"They used the outside and refurnished the lounge area."
"It was done in the third week of December, so we couldn't put any Christmas decorations up," he added.
Despite the pandemic, the future for the film and TV industry in Southport and Merseyside looks bright.
The upcoming musical 'Perfectly Frank' filmed the majority of its scenes in Southport.
Its soundtrack recently had success in the Amazon charts and won Best Score at the Birmingham Film Festival 2020.
It was also nominated for Best Feature.
Liverpool City Council have approved plans for a £54 million film and TV studios at Edge Lane.
It hopes to be operational by early next year, giving a boost to the creative economy of Merseyside.