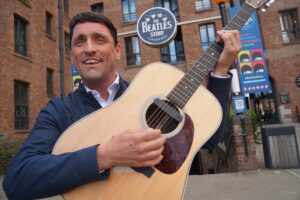 The acclaimed 'Something about George – the George Harrison story' is coming to New Brighton next February to celebrate the man dubbed 'the Quiet Beatle'.
George Harrison died in November 2001 after a battle with lung cancer.
Following a successful Liverpool premiere and a terrifically-received run at Edinburgh Festival Fringe, the show – a 90-minute dedication to the life and music of George Harrison – is to embark on a UK tour in Spring next year.
It will start in New Brighton on Saturday February 3 and end in Felixstowe on Saturday March 23 2024.
'Something About George' is written by Jon Fellowes, who co-produces the show alongside Liverpool-born singer songwriter Gary Edward Jones and theatre producer and publicist Bill Elms.
he lives on through his incomparable music
Collectively, the trio are Something About Productions, the creative team behind the hugely successful 'Something About Simon – The Paul Simon Story'.
Co-producer Bill Elms said: "It may be 20 years since the world lost George Harrison, but he lives on through his incomparable music, and this show created in Liverpool, highlights the legacy he left the world.
"There's been nothing but praise for this wonderful show, which will now visit 28 venues across the UK in spring 2024. It's going from strength to strength and is going to be a great few months on tour."
From heartbreak to hedonism, 'Something About George' celebrates a life that was anything but quiet.
Featuring beautiful songs including 'My Sweet Lord', 'Something', 'Got My Mind Set On You', and 'While My Guitar Gently Weeps', 'Something About George' showcases Harrison's incredible solo material and music from rock 'n' roll's greatest supergroup The Traveling Wilburys, which was made up of Bob Dylan, George Harrison, Jeff Lynne, Roy Orbison, and Tom Petty.
It goes without saying that there will be music from the Fab Four included!
Fresh from the BBC's 'Unbreakable', West End performer and musician Daniel Taylor fronts the band of five and tells the fascinating story of Harrison.
The band are Joe Smithson (MD, guitar and vocals), Callum Macmillan (percussion/drums), Tom Kinton (bass guitar and vocals) and James Breckon (keyboard and vocals).
Daniel has some background in being a Beatle already, having played John Lennon in the award-winning 'Lennon Through A Glass Onion'.
Daniel said: "I'm really looking forward to taking 'Something About George' back out on the road in February and March for a much larger tour, performing it again for UK audiences.
"We had such a great reception when we performed the show earlier this year across the UK, I can guarantee people a fantastic journey through George's life and his amazing music."
Featured photo (c) 'Something About George – the George Harrison Story'