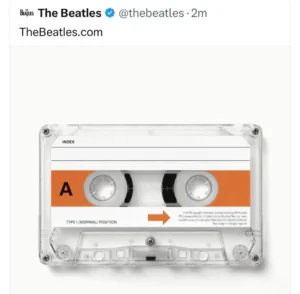 Following the recent announcement of what has been described as The Beatles' final song, fans in Liverpool are excited to hear the track. 
It was 60 years ago this year that The Beatles released their first single, 'Love Me Do'. Now the latest release 'Now and Then' is due to be issued.
The night before the single was announced, projections of an orange and white cassette tape appeared on famous Beatles landmarks in the Fab Four's hometown of Liverpool.
Locations included beside the John Lennon statue on Mathew Street (home of the Cavern Club, where The Beatles played 292 times), and John Lennon's childhood home, Mendips, at 251 Menlove Avenue. 
The song has been produced using an old unmastered recording which Lennon had made in the 1970s. It includes the vocals of John Lennon, which were extracted from poor quality recordings by AI.
'Now and Then' was worked on in the mid-'90s during the mixing and release era of The Beatles' 'Anthology', so George Harrison's guitars are to be heard on it as well, while the two remaining Beatles, Paul McCartney and Ringo Starr, have come together once more to complete it.
At the Cavern Club, where Beatles songs are played all day everyday, there is much excitement for the track.
Paul Jones, a Cavern Club director and resident musician, said: "Even after The Beatles have broken up, to still be given something new and something that no one's ever heard before, it makes you feel like a little kid again – so yes, I'm looking forward to hearing it!".
It is sometimes said that Liverpool is famous for two things: football and The Beatles. Indeed, it seems as though residents of the city and visitors alike are keen to hear 'Now and Then'.
Simon Fisher, 59, from Staffordshire, said that he is quite interested to hear the new track on Thursday: "They're using AI on it, which I don't quite understand … there'll be a new generation interested in The Beatles, certainly."
Ivan Cectan, 62, from the Wirral, said that interest was already there: "People have already got an interest in the band and will listen to it. Mathew Street will get busier – I hope so, anyway."
Additional reporting by Kieron Day
Featured photo (c) Ruby Smith