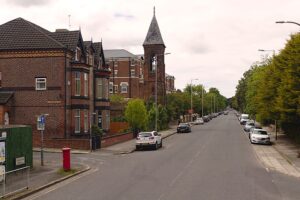 A council in Merseyside has revealed its plans for a £73.5m redevelopment of its area over the next few years.
Wirral Council plans to refurbish a former Birkenhead shop unit, redevelop New Ferry town centre and create a mental health hub and public spaces.
The local authority recently sent a plan to the government for approval. If it is approved, it will allow the council to take part in a government trial giving it more control over how it spends public money on local regeneration.
It said plans for a transport museum within the new Dock Branch park, currently estimated at costing around £6m, will also be reviewed as "increasing costs mean that this project is unlikely to progress in its current location".
Leader of Wirral Council, Councillor Paul Stuart said: "Our regeneration plans are incredibly ambitious and this one of the first demonstrations of what's coming to Birkenhead and the Left Bank.
"We've committed to revitalising the town and breathing new life into its business and retail spaces.
"The council is showing a clear commitment not only to driving forward the regeneration projects but to joining them and becoming part of the change we want to see."
Various other projects were also outlined for future spending, including £3.8m allocated towards a wellbeing hub run by the Open Door mental health charity which will provide "a vibrant and accessible environment where children, young people and families can access services".
The council said £1.3m will be spent reusing floor space at Egerton House and more than £1m on a music skills venue for young people at Future Yard.
On top of that, there are also plans to spend £1.4m for a creative hub on Argyle Street, £1.7m on a sustainability centre, £2m on developing a new public space around the Seacombe Ferry Terminal and Eureka! centre and £3m on improving Hamilton Square with "landmark lighting" and public art.
More than £3m will also be spent rejuvenating New Ferry more than six years after an explosion blasted through the town centre destroying multiple buildings.
In Woodside, £376,000 will be spent on the ferry village, £7.9m on a new ferry landing stage, £2.7m on a new U-boat museum, £4.1m on bus station improvements and £4.6m to improve the gyratory for pedestrians and active travel.
The council will be moving its office-based employees
Almost 200 new residential units will also be created using £3.3m in Birkenhead town centre with £3.7m going towards new cycle lanes and improvements nearby and a further £2.7m going towards improving the Charing Cross junction and Grange Road.
Ahead of this, two new office buildings which form a key part of the regeneration plans for Birkenhead, the Mallory and Irvine buildings in Alice Ker Square have now been presented to the Mayor of Wirral Councillor Jerry Williams.
After a 22-month construction timescale, which has run to time and budget. the buildings were officially handed over from the Wirral Growth Company and its construction partners Morgan Sindall to the council.
The council will be moving its office-based employees into a number of floors of the Mallory building in Spring 2024, making it the main administrative location for the authority and becoming the 'anchor tenant' in the redeveloped office quarter of the town. The remaining floor space of Mallory, and the entirety of the neighbouring Irvine building will be leased to other tenants.
Featured Image: Wikimedia Commons