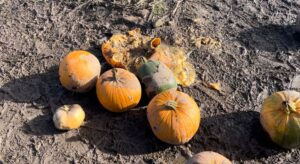 October is an exciting month for all involved, and the event that demands many people's attention is Halloween.
There are a host of festive activities that bring the whole family together – harmless fun, some would say.
However around 18,000 pumpkins go to waste each Halloween. This is because out of 30m  pumpkins that are purchased each October, half will go entirely to waste.
If that statistic isn't scary enough that's around £27m pounds (weighing in at around 1,224,6984 kg) of food wasted.
Before a pumpkin is a decoration it is primarily a vegetable. Starbucks seasonal drink the "pumpkin spice latte" is popular all year round, so why do we not have the same attitude towards pumpkins themselves?
Pumpkins are made for more than just carving. MerseyNewsLive went down the Claremont Farm situated in Bebington to find out what people are choosing to do with their pumpkins.
Federico Lupis, 32, from Italy said: "We will try to carve them and make Halloween pumpkins; it is the first time for me. I suppose since I am Italian a risotto with pumpkin is the best thing I can do."
Madeline Cole had a different idea for what she wants to do with her pumpkin. "We have a puppy, and what I think I would do now since I have the dog is puree it down for him. Boil it, chop it up if it is not mouldy as it can be hard to catch them before they go mouldy. So yes, I would puree it down and give it to the dog."
Pumpkins are rich in potassium which helps regulate your blood pressure, lowering the risks of heart attacks and strokes. If that is not reason enough to start gobbling them down, I am not sure what is!
Pumpkin Soup
One of the easiest pumpkin recipes is the famous pumpkin soup.
You will need:
2 tbsp of Olive Oil
2 brown Onions (finely chopped)
1 Pumpkin finely chopped, peeled, and deseeded (ensure your pumpkin weighs about 1kg)
700ml of vegetable or chicken stock
150ml of double cream
How to make:
In a large saucepan heat up the olive oil and gently cook onions for 5 minutes.
Add your peeled and chopped pumpkin into pan and cook for 10-15 minutes stirring occasionally until golden and softened.
Add your stock of choice, at this point season how your heart desires.
Bring to a boil and let the deliciousness simmer for about 10 minutes until the pumpkin is very soft.
Pour 150ml of double cream and bring back to a boil.
Now puree the mixture in a hard blender to create a puree.
You can sieve the puree to create the desired texture.
You can sleep easy tonight knowing you have made the most out of your pumpkin.
Happy Halloween!
Featured image (c) Sadie Gilbert