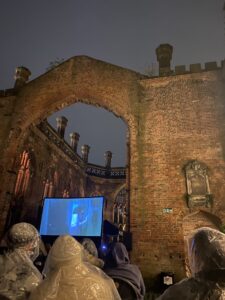 The cold and rainy nights have not stopped the people of Merseyside as St Luke's bombed-out church Halloween outdoor cinema nights have begun.
The event began at the weekend and has showings this evening with three different famous Halloween films being shown – Beetlejuice, A Nightmare on Elm Street and The Exorcist.
Despite the typical British weather, the dark rainy nights haven't stopped those with tickets from attending. Upon arrival, ponchos are given out and blankets can be brought to stay dry and warm.
Alongside the film, through scanning a QR code found on the tickets, classic cinema food is available to be brought to seats. Hot drinks and alcoholic drinks are also available as well as fresh pizza.
In order to bring in more students, the event had a separate priced ticket at a cheaper cost.
Kelsey Tennant, a John Moores university student who attended the event, said: "It's great when places are more accommodating to students especially when costs of everything seem to be going up.
"It looked like the majority of people there were students too."
With some mixed reviews of the event, student Francesca Condon said: "The idea of the event is great but in reality it was really cold – and the ponchos didn't keep me very dry."
Fellow student Sam Burrows added: "I liked the location and think it was great for Halloween."
For more information on the Halloween cinema nights go to the St Luke's website here
Featured image (c) Molly Graff