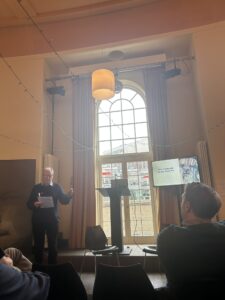 A poetry and literature celebration of underappreciated Merseyside writer Malcolm Lowry was held in Liverpool at the weekend.
The event was organised by the Lowry Lounge, launched in 2009 to mark the centenary of his birth.
The event is held at the Bluecoat, Liverpool every year, usually involving an outing in the afternoon. 
This year involved a reading from Robert Sheppard's newly published book 'Doubly Stolen Fire' which includes Robert's own writings on the under-appreciated novelist and poet, as well as reflection on authorship, reality and imagery. The outing was to Lowry's beloved Hilbre Island.
Author and LJMU Creative Writing lecturer Helen Tookey said: "We really thought Lowry was not really well known as a writer from Merseyside. He's not as well-known as he ought to be."
She said there aim all along was to raise the profile of Lowry.
a windmill on it like a curious black flower
Lowry is best known for his 1947 novel 'Under the Volcano', which gives details of his broken marriage and struggle with alcoholism.
After Bluecoat there was a walk to Hilbre Island, which Lowry often visited and referred to it in his writing.
For instance, his writing refers to a mysterious windmill, never discovered. Lowry writes: "There was an island in the estuary, with a windmill on it like a curious black flower, which you could ride out to at low tide on a donkey."
To bring the poetry and literature celebration to a conclusion, a group member read to a harmonica tune as we took a toast of Reposado – showing appreciation to the poets undoubtedly talented work and lasting legacy in the literacy world.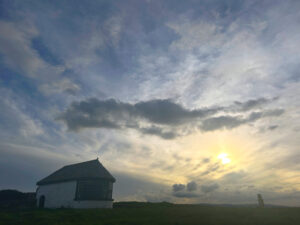 Island Renovation Project
Bringing life back to the island is Dominic Wilkinson, Principal Lecturer in architecture at John Moores University. He will be turning a selection of semi-derelict buildings into a creative centre for people like artists and bird watchers.
Dominic explained that the biggest struggle in the project turns out to be ensuring there was running water for the toilets!
Watch Anna Rainey's video report here:
Featured image (c) Abigail Ford