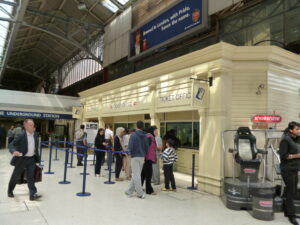 The controversial proposal to close most rail ticket offices in England has today been dropped.
After hearing from passengers and accessibility groups, the government decided to cancel the rail industry's plans to close most of the rail ticket offices across the country.
The announcement was initially made in the summer when the Rail Delivery Group (RDG) announced its intentions to close over 1,000 ticket offices in hopes of reducing costs due to a fall in passenger numbers after COVID.
Following a public consultation, Transport Secretary Mark Harper today withdrew these proposals. He added that efforts are still being made to make stations more accessible and reform our railways with the expansion of contactless Pay As You Go ticketing.
Watch here to hear members of the public voice their concerns for the abolishment of ticket offices:
Lots of funding has also gone into the rail industry as of late with the Network North plan from the department for transport aiming to give a 'transformative approach' to transport across the country.
This plan would make the country much more interconnected with investment said to be coming in towards more rural areas as well as the bigger city.
All this comes not long after Rishi Sunak's decision to scrap HS2 with the funding instead going towards the Network North plan.
Featured image (c) Wikimedia Commons Creative Commons