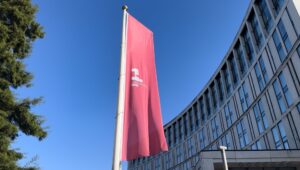 Social darts operator Flight Club has selected Liverpool ONE's Chavasse Park for its latest locations, and plans to open its doors next year.
Flight Club will join Liverpool ONE's line-up of leisure brands including Junkyard Golf Club, Roxy Ballroom and the recently-launched 100,000 sq ft Gravity MAX flagship.
Its other branches include Manchester, Shoreditch, Las Vegas, Houston and Perth. Flight Club provides what it describes as "an interactive and experience-led activity, reimagining the traditional game of darts". The facility allows groups to play the game together in a bar setting.
Flight Club Liverpool intends to open in autumn next year in a 10,000 sq ft location above L1. There will be two feature bars and will feature the brand's most distinctive style – the eclectic appeal of the circus teamed with the nostalgia of traditional British pubs.
Flight Club founder Steve Moore said: "As one of the UK's most exciting cities, we've been looking forward to bringing Flight Club to Liverpool for a number of years. We're still finalising the details, but we can't wait to share more of what we have planned in the coming months."
Rob Deacon, Asset Management Director at Grosvenor, which operates Liverpool ONE, added: "Reaffirming Liverpool ONE's position as one of the UK's leading retail and leisure destinations, Flight Club's fast-growing success and solid reputation have led to the brand becoming a household name in the leisure industry and it will feel right at home amongst our leading entertainment offer."
The announcement follows the recent news that MOJO, the rock n' roll Americana style cocktail bar, has launched on Hanover Street, marking a significant upsize from its previous home at Back Berry Street.
Featured photo (c) Ruby Smith