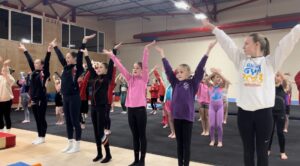 Aerial Gymnastics in Croxteth have launched a fundraising drive for new equipment to provide better opportunities and programmes to the gymnastics community and beyond.
The club have been operating for eight years, and this year, Aerial Gymnastics set up a Community Interest Company (CIC)  called 'Aerial Gymnastics Community Events' in order for them to have a more established role within the community and to support teenagers in particular to keep them involved in the sport.
The CIC have also started to branch out in the community offering support for those with dementia.
Teresa Potts, Head Coach at Aerial Gymnastics, said: "British Gymnastics Foundation, which is the charitable arm of our governing body, reached out to us last year when it was the World Gymnastics Championships in Liverpool, and they were trying to get coaches upskilled and multi-skilled in various different forms of gymnastics activities.
"Dementia UK chose British Gymnastics to deliver their seated exercise programme which was aimed at dementia sufferers and the elderly.
"I took British Gymnastics Foundation's offer up on being upskilled on that course and that was probably one of the catapults that led me to set up the CIC so that we could reach out into the community and do more community-based work away from the role of traditional gymnastics.
"So it was that with our teenage work and that kind of snowballed then into all different forms of community gymnastics."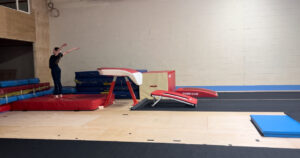 The Croxteth club have also launched their Halloween themed 'Smartie appeal,' which focuses on giving the members a treat, and in return fills up Smartie tubes with 20p coins to reach their £16,000 goal for new equipment.
Mrs Potts said: "It's worked really well – the children have been earning 20p at home to put in, they've been earning 20p at the gym as well to help fill their tubes back up."
Since returning to the gym in September, the club have gone from being a local, recreational team, to a recognised regional and national circuit.
Children from the club have been getting involved, conducting sales on a Saturday and volunteering in the club's shop selling Halloween themed gift bags.
to fundraise more we are going to play some bingo
In December, the club will also be conducting a Christmas-themed fundraiser, a 'Christmas Quackers Bingo.'
Mrs Potts said: "We have tied that into an awards evening for our end of year awards. So, all the gymnasts will get involved in the planning as well as the parents, but to fundraise more we are going to play some bingo."
At the moment, competitive gymnasts at the club are having to practise in other clubs in order to get their practise in before competitions. Competitors at Aerial Gymnastics have gone from being local competitive gymnasts to regional; representing Team GB in Amsterdam this year.
This means that the type of equipment needed to practise on must be replaced by top-quality competition equipment.
Aerial Gymnastics are fundraising for a new set of bars and floor area. The new floor would benefit the club itself as well as their competition gymnasts.
Mrs Potts said: "It would benefit right the way down from our gym-tots all the way up to our 16-year-olds and teenagers in particular who need a thicker, better quality floor area.
"So unfortunately, it's expensive, but were hoping to get there soon."
Watch Cassie Ward's video report here:
Featured image (c) Cassie Ward