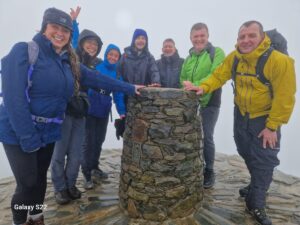 The Jade L Roberts Project is an organisation set up to help raise awareness about suicide and to support those suffering from suicidal thoughts.
Named after founder and CEO Tracey Roberts' daughter, who died by suicide in April 2021, the organisation has had around 230 referrals since opening its doors in Liverpool in November 2022.
It has so far been vastly successful, and is currently the only organisation in the city to offer help in dark times to both men and women, as well as their families.
Those at the Jade L Robert Project are always keenly looking for supporters and volunteers as well as help with raising funds.
"We're just relying on fundraising and donations at the moment to keep our door open," said founder Tracey Roberts.
One of their most prolific fundraisers is Michelle Ferguson, who suffered her own loss through suicide earlier this year. She was contacted by a member of the project after posting on Facebook. Since then, she has been fundraising for them – and with huge success.
Ms. Ferguson said: "They're lifesaving. Truly lifesaving, and they're making a difference. They're heavily relying on this fundraising… it just needs everybody in Liverpool fundraising for them."
For more information on the Jade L Roberts Project, visit their website.
Featured image (c) the Jade L Roberts Project