Paul O'Grady's unexpected death has rocked the nation.
The television icon was 67 years old when he tragically died on the evening of March 28.
When given an honorary fellowship at Liverpool John Moores University, Professor Frank Sanderson described O'Grady's life as a "memorable rollercoaster ride".
It is important to remember one's life in the tragedy of death, so here we will be looking back on the life of Paul O'Grady through pictures.
Childhood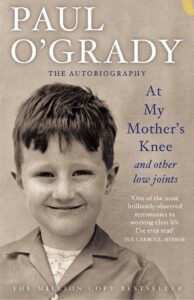 Paul O'Grady was born 14 June 1955 at St Catherine's Hospital in Tranmere, Birkenhead.
His father, Patrick was an Irish immigrant and his mother, Molly Savage was born in England to Irish immigrants.
Paul was their third child, being born over a decade after his older siblings Brenden and his older Sheila.
His early life was spent in Holly Grove in Higher Tranmere, with O'Grady describing his childhood as "safe" and "full of affection".
He attended St Joseph's Catholic Primary School in Prenton and then St. Anselm's College in Birkenhead, which was run by the Christian Brothers.
As a child he loved dressing up and said "If I see a wig, a hat or a bit of material, it's on my head. I can't help it".
Early Career (Lily Savage)
After leaving school at 16, O'Grady got a job in the civil service, working as a clerical assistant for the Department of Health and Social Security in Liverpool.
While still being in Birkenhead, he increasingly socialised within the Liverpudlian gay scene, attending meetings of the Campaign for Homosexual Equality.
This is where his LGBTQIA+ activism began.
At this time O'Grady also had a casual sexual relationship with his friend Diane Jansen, who became pregnant with his daughter, Sharon Lee Jansen, in May 1974.
O'Grady then moved to London and started working for Camden Social Services.
It was there that Paul started developing his famous alter-ego, Lily Savage.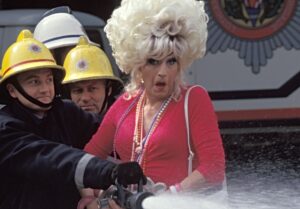 Named after his mother's maiden name, Savage was an abrasive, brazen, bottle-blonde from Birkenhead.
Described by Professor Frank Sanderson as a "a vampish Liverpudlian woman".
Speaking in 2010, O'Grady said he wanted Savage to be larger than life.
Paul said: "I wanted to get up there but be larger than life, a creature that was more cartoon than human."
Through the 90s, the Lily Savage character gained mainstream success.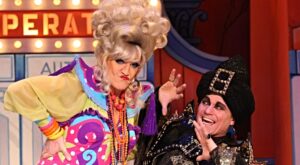 He gained public exposure from Savage's appearance on the late-night Channel 4 comedy show 'Viva Cabaret!'
Further exposure came from shows like the BBC's 'That's Showbusiness'.
O'Grady was then employed to narrate the television show, 'Life Swaps' and gained his own late night show on Channel 4,  Live from the Lilydrome.
Lily Savage gained more notoriety for performances such as 'An Evening with Lily Savage', which was awarded Best Entertainment Program at the 1997 National Television Awards.
Further shows such as ITV's 'Lily Live!' and his rendition of "You Gotta Have a Gimmick" at the 2001 Royal Variety Performance alongside Cilla Black and Barbara Windsor.
The Paul O'Grady Show & Paul O'Grady Live
After sustained mainstream success, and an appearance standing in for Des O'Connor, O'Grady was offered his own show on ITV.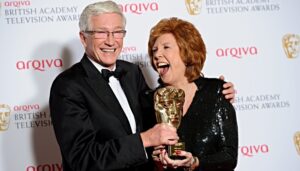 The Paul O'Grady Show was a daytime chat show, aired in late 2004 credited for its 'seemingly unscripted' banter, between O'Grady and guests.
The series was a success, attaining between 2.5 and 2.7 million viewers daily.
O'Grady had a special place in his heart for dogs, including his own dog in the show, Buster.
The inclusion of his dog, Buster, on the show proved particularly popular with audiences.
The show gained a loyal following.
Hundreds of fans would attempt to view the screenings with many having to be turned away.
This sparked a 'ratings war' with Channel 4 show, 'Richard & Judy' which was dubbed, 'Chat Wars'.
For the show, O'Grady earned a 'BAFTA' award for Best Entertainment Performance.
In 2005 O'Grady switched from ITV to Channel 4, where it was reported he earned £2 million a year, making him one of Britain's highest-paid television stars.
This is where the show was briefly renamed, 'The New Paul O'Grady Show'.
Later Shows
Later work from O'Grady focussed on his love for animals.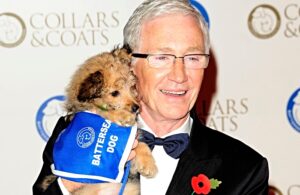 His dog Buster had appeared on his previous shows, but in 2012, he launched 'Paul O'Grady: For the Love of Dogs'.
This show covered life at Battersea Dogs and Cats Home in south London.
Battersea Dogs and Cats Home, put out a statement regarding the death of O'Grady, which you can read here.
Battersea Chief Executive, Peter Laurie said: "Battersea will forever remember Paul as a devoted animal lover with the biggest heart.
"He was a champion for the underdog, and will be dearly missed."
The show was a great success, where he was scheduled to volunteer for six days for filming but stayed a further six months.
'Paul O'Grady's Animal Orphans' screened in 2014, with O'Grady traveling to see wildlife in Africa.
The show had two follow up series and was a huge success.
The first series averaged 3.29 million viewers whilst the second averaged 2.75 million.
In 2013, ITV revived 'The Paul O'Grady Show' where it aired until 2015.
Health Struggles
O'Grady had a number of physical and mental health issues through his life, suffering a bout of clinical depression in his early career, and also had issues with his heart.
In 2002 O'Grady suffered his first heart attack.
Doctors attributed to a combination of a congenital family heart problems with stress, heavy smoking, and caffeine.
In 2006, O'Grady admitted that smoking 40 cigarettes a day had contributed to his two heart attacks.
In June 2006, O'Grady suffered a second massive heart attack, undergoing an angioplasty.
During this time O'Grady received around 7000 'get-well-soon' cards from fans.
To manage his health issues, O'Grady began taking a week off mid-series, where he was replaced by guest presenters.
In November 2013, O'Grady suffered an angina attack and underwent further heart surgery.
Social Activism
O'Grady was an avid supporter of charities and activist groups throughout his storied life.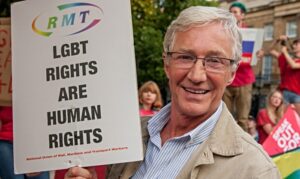 He was a supporter of LGBTQIA+ rights, attending meetings of the Campaign for Homosexual Equality, in his early life.
Making sure not to forget his roots, O'Grady always felt that he was a working-class man.
Publicly known for being opinionated, O'Grady was critical of the Royal Family.
In his biography written by Neil Simpson, it states O'Grady's father had raised him to view them as 'social parasites'.
The exception in his mind was Diana, Princess of Wales, whom he came to respect for her charitable work with those living with HIV/AIDS.
O'Grady did further charity fundraisers for HIV and AIDS, due to knowing many friends who had suffered and died due to AIDS-related issues.
Despite his success, he never forgot his working class background, and was open about his political views.
Being critical of former Conservative leader David Cameron, and championing former Labour leader Ed Miliband.
He was critical of the Conservative-Liberal Democrat coalition when they were in power.
O'Grady called them disgusting, and said: "They have no idea what the common working man and woman are doing.
"They are not in touch with the working-classes."
He was also vocal critic of both Thatcher's government as well as the current Conservative government.
From 2008 onwards, he became an Ambassador for 'Save the Children', as well as 'Battersea Dogs and Cats Home', and became  a patron of 'Orangutan Appeal UK'.
Orangutan Appeal have too released a statement which can be found here.
Other Works
Later on, O'Grady wrote a number of books which were very successful.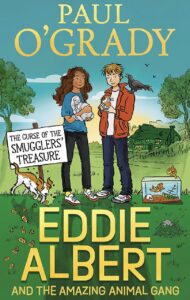 He went on to write fiction and non-fiction books, as well as autobiographical pieces.
The Eddie Albert series of books were some of his most loved.
The children's books had great success, combining O'Grady's wicked sense of humour, with his love of animals.
Eddie Albert, the protagonist of the series, has the ability to speak to animals, and the book series was adored by children across the country.
Impact
O'Grady's death has rocked the nation and his impact on the entertainment industry cannot be understated.
His impact on the 'Chat-Show' format, changed its style forever, making it less scripted and more adlibbed, as well as his signature raunchy humour, meaning many shows followed suit.
Paul O'Grady managed to capture the hearts of the nation, his sudden death is tragic and he will be sorely missed.
Outpouring of love for Paul O'Grady: 'A trailblazer and inspiration to the LGBT+ community'
Tributes flood in for TV star Paul O'Grady who has died at 67
LJMU saddened by the passing of honorary fellow, Paul O'Grady