After receiving some Paws-itive healing an abandoned cat has put her sad past behind her in search for the purr-fect new home.
Velma and three other cats, called Daphne, Fred and Scooby, named after characters in the popular children's cartoon Scooby Doo, were rescued at Christmas by the RSPCA.
Velma is the only one from the abandoned quartet who has yet to find a new home.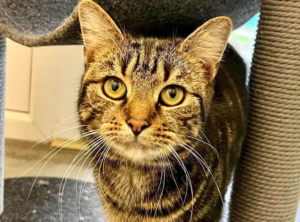 Velma was physically ok but what happened to her left her scared and anxious
One-year-old Velma would intially spit, hiss and growl at people but after weeks of care by dedicated staff at the branch's Slutchers Lane rehoming centre, she is now a different cat.
Animal care manager Katie Buckley said: "Velma was very worried when she arrived and she would hiss, spit and growl at us.
"Physically she was ok, but what happened to her left her understandably scared and anxious."
Building her confidence has slowly earned her trust
Velma was abandoned with the three other cats and Miss Buckley feels this is the reason for her anxiety.
She said: "As we would normally do with cats who are quite shut down when they come into our care because of their past experiences, we spent a lot of time slowly getting to know her, building up her confidence and trying to win her trust.
"She now enjoys a fuss, curling up on your lap and even having the occasional play with some of her toys.
Velma is deserving of a new home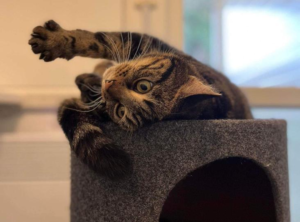 Staff feel that, despite some continued anxiety, Velma is now deserving and ready for her fur-ever home.
Miss Buckley said: "She has some way to go yet but she's definitely getting there.
"She can still be worried by sudden movements or noises and any fuss is very much on her terms.
"She will also go off and do her own thing once she's had enough human interaction, but she's so much more relaxed than she was when she first arrived."
Miss Buckley said: "Velma's friends have already found new homes and we'd love to see her settled in one too. She's the last of the Mystery Inc crew waiting for her happy ending!
"After everything she has been through, she really deserves a second chance with understanding people who will let her take things at her own pace."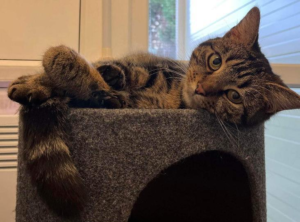 An adult only home is most suitable
Staff at the centre say Velma will be best suited to an adult-only home (as Scooby's rivals would say, "no pesky kids") with no other pets with people who can give her plenty of time and patience and gently earn her trust.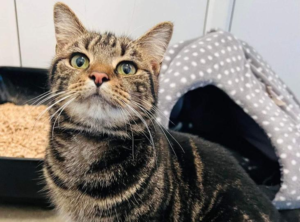 https://ddec1-0-en-ctp.trendmicro.com:443/wis/clicktime/v1/query?url=https%3a%2f%2fwww.rspca.org.uk%2flocal%2fwarrington%2dhalton%2dand%2dst%2dhelens%2dbranch%2ffindapet%2fdetails%2fVELMA%2fBSA2119034%2frehome&umid=7ab4c865-c3a0-4e32-bdf4-48c3f3c9952f&auth=6b639a990a359ff1d6cc8761081d57748ce3c81e-0dd91d116083d5bba89739c5d453f454663de719>.https://merseynewslive.co.uk/2022/02/22/liverpool-dog-rescue-charity-calls-on-owners-to-neuter-their-pets/
In time she may want to explore outside, so a safe garden away from busy roads and railways, will also be beneficial. For more details about how to adopt Velma visit the branch's website <
RSPCA launches Trek for Cats to raise money for rising pet returns since lockdown