Play prompt: Annie and Christabel are dating. Historians dispute this on the grounds of 'inaccuracies' and 'lack of scholastic rigour' and 'the over-interpretation of the fact that women shared bedrooms'.
This was my first visit to the Shakespeare North Playhouse and I did not know what to expect when I arrived at The Studio, a small space with about 40 seats.
However, while the Cockpit Theatre is the Playhouse's main attraction, The Studio created a perfect atmosphere because the audience could focus more closely on this unusual performance.
The audience was firstly greeted by director and writer Clodagh Chapman.
As the play began Ellie Mejía (Christabel Pankhurst) and Lucy Mackay (Annie Kenney) established early on that the suffragette movement would not be the primary focus of the play.
Instead, it was about bringing Annie and Christabel's love story into the present and creating a new space for queer representation to thrive.
Breaking the fourth wall
My favourite element of the show had to be the incorporation of multimedia elements to assist the storytelling.
Throughout the play, Ellie and Lucy were joined by videographer Christina Holmek who almost acted as a third eye observing their relationship which broke the fourth wall.
A large screen was used to project the video, which provided a closer look at the play's evolving emotions and acts of desire.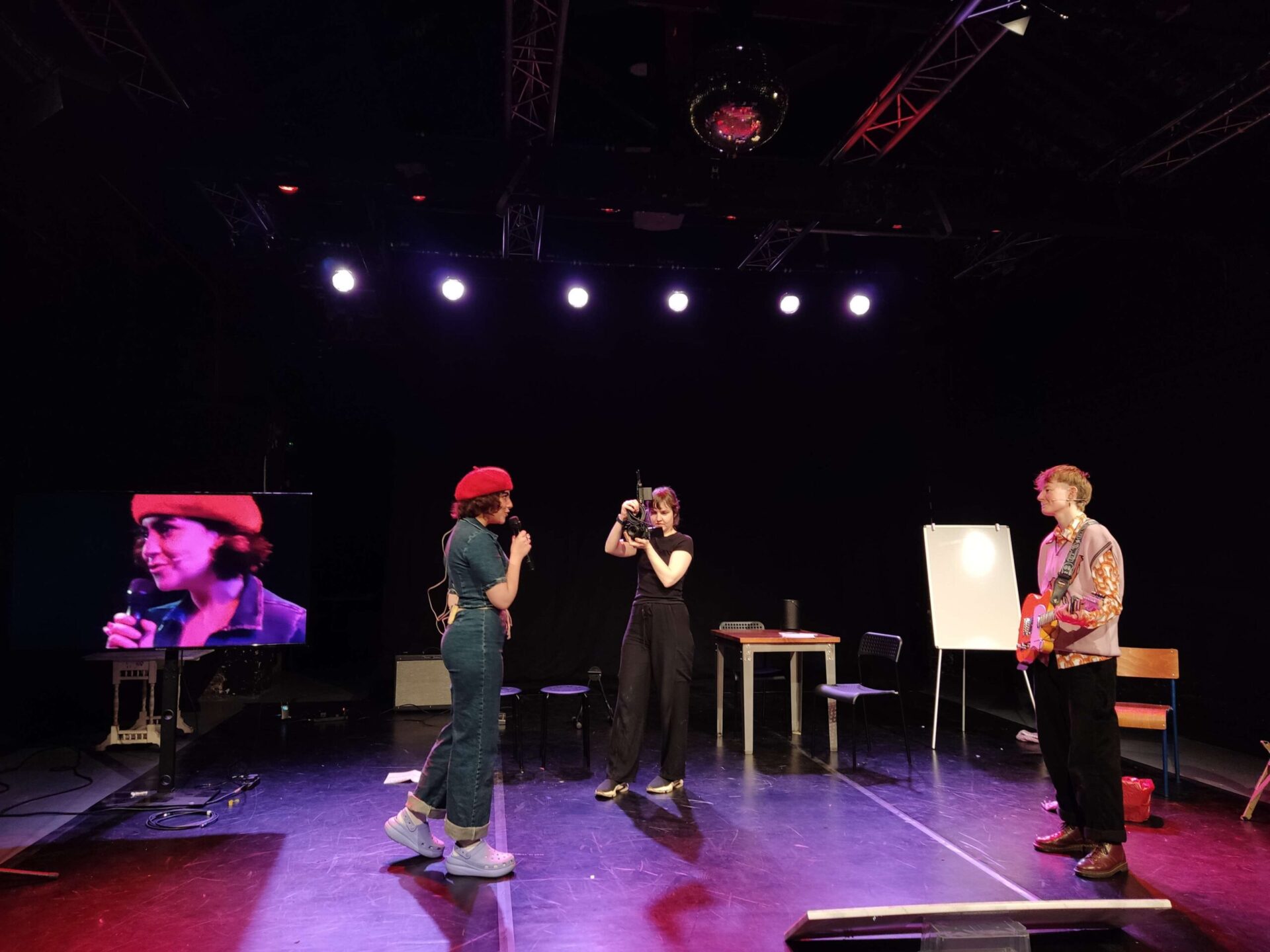 Although it was established that the suffragette movement was only a contextual period, it was still largely explored in the play and the actresses paid homage to a fellow 'telepathic' suffragette Mary Balthwayt, who kept a diary of how Annie liked to stay in her room at Eagle House other known as "Suffragette's Rest"
Making reference to these moments in the play allowed the relationship to drastically evolve and unfold, while also allowing the audience to watch Ellie and Lucy deliver an excellent performance under the spotlight.
They both displayed and controlled their emotions perfectly and the chemistry between them was captivating.
It was difficult not to become absorbed in the play during its moments of joy, longing, and anguish.
The play itself had some fantastic comedic moments which added a more light-hearted rom-com element to this historical period.
At one point, Annie and Christabel spent an evening together and departed saying "night" to one another, then as Annie left, confetti was thrown into the air which sent laughter throughout the room.
However, more serious topics were also covered, including a Q&A segment after the interval when Annie and Christabel wore fake moustaches and took on the role of male directors as they grudgingly listened to a recording of a patronising man who wanted to judge the story of Christabel and Annie.
Music was also used to help provide transitions and epic power ballads were played on guitar such as Alanis Morissette's You Oughta Know and Head Over Heels, which once again brought a more contemporary and charming approach to the play.
Overall, Ladyfriends was a highly enjoyable and engaging play, although a lot of ideas were thrown into the script, it was easy to navigate and the balance of comedy and innovative theatrics retold the story of Annie Kenny and Christabel Pankhurst's evolving relationship and created a lasting message that no one should be silenced whether that's in the past or present.
Rating: 5 out of 5 
Produced by Sarah Allen 
Written and directed by Clodagh Chapman 
Cast included:  Ellie Mejía (The Velveteen Rabbit) as Christabel, Lucy Mackay (Rage Room) as Annie, and Christina Holmbek (Mustard Doesn't Go With Girls) as Onstage
Camera Operator.
Creative team included: Mandla (as British as a watermelon) as Dramaturg, Sasha
Georgette as Assistant Dramaturg, Izzy Odelola as Sound Designer, Natasha Lunt as
Creative Assistant.