Caryl Churchill's classic play 'Top Girls' is at the Everyman Theatre, Hope Street, until March 25.
The Everyman Theatre's new artistic director, Suba Das, has done something unprecedented with its latest production.
The director, also in charge of the Liverpool Playhouse, has adapted Caryl Churchill's feminist classic, "Top Girls", to Liverpool with a Toxteth twist.
The opening scene, a phantasmagorical dinner party in a posh restaurant hosted by Marlene, the Manageress of the 'Top Girls' Employment Agency, may initially baffle the audience – especially when one of the women guests is Pope Joan in full papal garb.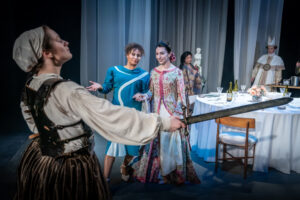 In vino veritas, the passions flare, dialogues overlap, and conversations become boisterous verbal clashes before flattening.
Marlene (Tala Gouveia) heads the cast as an uncompromised black woman who succeeds in a male-dominated world.
She has been promoted to General Manager in London's 'Top Girls' Employment Agency.
Marlene represents the new Conservative class during 1980s politics and the rise of Margaret Thatcher.
She uproots from Toxteth, Liverpool, and heads to the capital, abandoning any personal attachment in order to pursue a career, power, material success and the security she believes comes with it.
In the second part, the scene changes to a London Office where the desks cascade down from the ceiling and the actors burst through the stage via a trap door.
Angie (Saffron Dey) is Marlene's niece, a troubled teenager with high levels of anxiety, bouncing from one thought to another. In Toxteth, she lives with Joyce (Alicya Eyo), Marlene's sister.
Yet, what sacrifices a woman of colour has made in a male-dominant world?
There is a bitter-sweet reunion with sister Joyce when Marlene visits Liverpool 8. The skeletons are coming from the cupboard – hard to take for both women.
You can take a glimpse of the characters in this short clip.
The last performance is on March 25. You can book here.