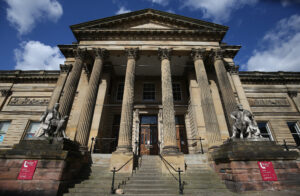 After more than three years of being closed for refurbishment, the Medieval, Renaissance and Baroque exhibits at the Walker Art Gallery in Liverpool will return to public display this July.
'Renaissance Rediscovered' occupies the 90-year-old rooms 1-4 at the gallery, and comprises a mix of around 200 paintings, as well as sculptures, prints, and drawings.
The grand re-opening will consist of a blend of returning visitor favourites and new acquisitions, featuring pieces by Simone Martini, Holbein, Rembrandt, and Giovanni Andrea Sirani.
The total cost of the project amounts to £4.5m, which includes part of a £4m investment in National Museums Liverpool by the UK Government, alongside funding from Art Fund, Tavolozza Foundation, Henry Moore Foundation and Art Friends Merseyside.
An exciting chapter in the history of the Walker
New environment controls installed during the closure, mean that for the first time the gallery's collection of works on paper will have their own dedicated space as part of the exhibition, with some having never been seen before.
Kate O'Donoghue, Curator of International Fine Art at the Walker Art Gallery, said: "The opening of 'Renaissance Rediscovered' marks an exciting chapter in the history of the Walker, creating beautiful spaces for some of the Gallery's most magnificent treasures.'
"We hope this transformation will allow visitors not only to marvel at the considerable skill and artistry on display but also to appreciate that however many centuries separate us, art will always find ways for us to connect with our past."
Visitors wanting to support the gallery's new venture can do so via a fundraiser that rewards donors with gifts.
The first 100 people to give £50 towards the fund will receive a limited edition tote bag emblazoned with the painting 'Flowers in a Glass Vase on a Marble Ledge' by Willem van Aelst – one of the latest additions to the Renaissance collection.
'Renaissance Rediscovered' opens its doors on July 29.
Donations can be made here
Watch Mathew Markey's video report:
Featured image (c) Walker Art Gallery