The famous Birkenhead flat full of artistic wonders including a lion face fireplace has been saved.
Ron Gittins, who died in 2019 aged 80, left behind in his rented flat a unique world of art. However, since Ron's death the owner of the property put it up for sale.
An anonymous bidder has purchased the building and will work alongside WACCLT (Wirral Arts and Culture Community Land Trust) to preserve the flat.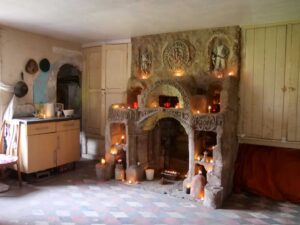 Jan Williams, Ron's niece and member of the Caravan Gallery, has been caring for the flat since her uncle's death.
Jan spoke to MerseyNewsLive about what they hope will become of Ron's home: "It could be affordable housing for artists – or anyone in the community really – but it would make sense if they were interested, invested in art and community and what Ron's done here.
Watch Ciara Bolton's video report here:
"We'd love to make a workshop studio in the garden so that visitors who came to the house in small carefully managed tours could come be inspired and make something themselves."
Watch Ollie Nolan-Davies's video report here:
Featured image (c) Ollie Nolan-Davies