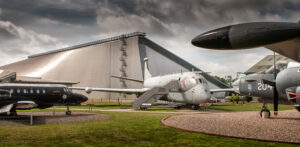 Over the weekend, MerseyNewsLive reporter Annabelle Davies visited one of the UK's two RAF Museums.
The Royal Air Force Museum Midlands in Cosford, Shropshire, offers a fun award-winning day out for all the family. Each aircraft and engine based at the Midlands museum is special in its own way.
The engines that were used in both world wars were originally made by Rolls Royce, a company originally from Manchester.
The museum is split up into different sections. In Hangar 1, you will find the 1:1 scale Airflix Spitfire as featured on the 'James May Toy Stories' series shown on BBC2.
But what's actually inside the museum?
Alongside their aircraft, the collection features a number of fascinating exhibitions and displays. These include Radar Echoing Models, aircraft, missiles and tanks used in intelligence gathering. showing Air Gunners, prisoners of war.
The museum also holds the world's oldest Spitfire, which was used during the Battle of Britain era.
The Merseyside connection 
LUAS (Liverpool University Air Squadron) is one of two university air squadrons. Around 20 students are recruited each year from University of Liverpool, University of Lancaster, Edge Hill University, Bangor University and Liverpool John Moores University.
The Squadron's Headquarters is at RAF Woodvale, near Southport.
Due to Cosford being the nearest RAF museum to Liverpool – the other is north of London – the museum displays aircraft that were made and produced in Liverpool.
Watch Annabelle Davies's video report here: 
Featured image (C) RAF Museum