Deprivation, poverty and misinformation could be fuelling violence against asylum seekers.
The Suites Hotel in Knowsley, which has been housing asylum seekers mainly from Afghanistan, became the scene of a violent incident on February 10, which left many shaken.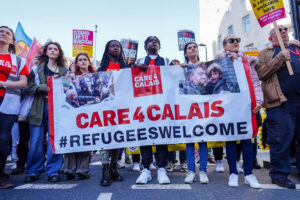 Merseyside police arrested a total of 15 individuals on suspicion of violent disorder.
One has been charged and the rest have been released on conditional bail.
Speaking to MerseyNewslive, Tom Costello, 25, from the International Socialist Alternative, which is involved in asylum seeker tenancy programs across the UK, blames deprivation and a lack of investment.
He said: "They (the far-right) latch onto real problems that exist, Knowsley is one of the most deprived areas in the UK."
"They then tell these communities that these problems are due to migrants."
Households living in deprivation
Knowsley is one of the most poverty-stricken areas in the UK with 1 in 4 households living in income deprivation.
Figures from Knowsley council show that 28.9% of children are in poverty, almost 11% higher than the average for England.
Speaking after the incident at the Suites Hotel, Labour MP for Knowsley, Sir George Howarth said: "The misinformation about refugees being feather-bedded is untrue and intended to paint a picture that does not at all represent the facts.
"The people of Knowsley are not bigots and are welcoming to people escaping from some of the most dangerous places in the world in search of a place of safety."
Tom Costello added: "Building council housing and investing in communities is the most effective way of preventing similar attacks."
Demonstrations in support of the asylum seekers at the hotel were held at St George's Hall on Saturday 18.
Charities across the country have written an open letter to the Home Secretary, Suella Braverman, following the incident in Knowsley.
More than 110 organisations signed the letter calling on the government to "create a system that is fair and compassionate, and brings cohesion instead of division".
The Home Secretary has faced sustained criticism on the rhetoric she uses when describing asylum seekers.
She prompted a similar outcry after describing channel crossings as an "invasion".
The attack on the Suites Hotel came after a similar petrol bomb attack on an asylum centre in Dover on October 30.
The clash in Knowsley began as a planned peaceful protest and counter-protest but many far-right protesters arrived from out of town.
Missiles were thrown at counter-protesters and police, including lit fireworks.
'I was really frightened'
This resulted in a police van being attacked with hammers and set ablaze, with emergency workers being assaulted.
Clare Moseley, founder of Care4Calais, speaking to the BBC said: "The far-right people were very organised and very violent.
"I was really frightened for us, I was really frightened for the people in the hotel.
"These are people who have come from war zones. I can't imagine how terrifying it would be for them."
Care4Calais is one of the organisations which has signed the open letter blaming the attack on the hostile language used by the government.
If you don't want refugees living in hotels, tell our govt to process their claims so they can work. If you love our country treat those less fortunate with dignity and respect. It's not hard.

— Care4Calais (@Care4Calais) February 11, 2023
Blame has also been placed on misinformation spread online.
Footage of an alleged harassment of a teenage girl had been spread around Telegram, which is believed to have sparked the Merseyside violence.
Merseyside police have said local concerns were fuelled by "misinformation and rumour."
Superintendent Karl Baldwin from Knowsley Local Policing, said: "Much of that concern is based on misinformation and rumour.
"There is no excuse for resorting to violence."
The open letter condemns the government's use of language and its role in creating violence.
Events in Liverpool tonight – the bitter fruits of #Braverman and #Sunak's scapegoating of refugees – giving space to the racists and the far right #Solidarity with antiracists & antifacists in Liverpool #NeverAgain pic.twitter.com/mL0imUUlil

— Stand Up To Racism (@AntiRacismDay) February 10, 2023
A Home Office spokesperson said: "The welfare of asylum seekers in our care is of the utmost importance and we will work with the police to ensure their safety."
I condemn the appalling disorder in Knowsley last night. The alleged behaviour of some asylum seekers is never an excuse for violence and intimidation. Thank you to @merseypolice officers for keeping everyone safe.

— Suella Braverman MP (@SuellaBraverman) February 11, 2023
Featured Image: Police in riot gear in Knowsley. Courtesy of Alamy Images. 
Jeremy Corbyn addresses rally in support of refugees in Liverpool
Liverpool anti-racism protest shows city's support for refugees